EA is back with EA Sports UFC 2, and the game's Creative Director Brian Hayes has revealed interesting new details on the upcoming fighting simulation title in an interview with iDigitalTimes. Get the highlights below.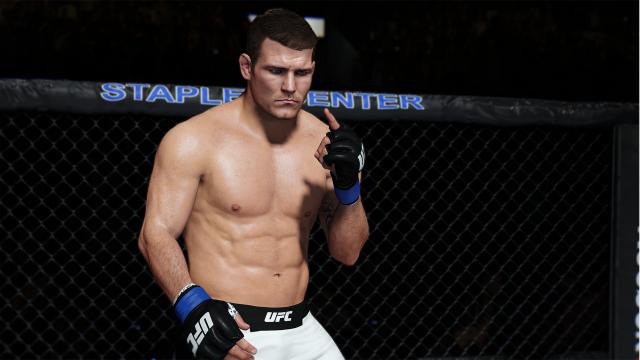 Hayes acknowledges that UFC 1 was unpolished, and telemetry from that game helped the design of the sequel.
"Live Events" is a new game mode that predicts and simulates real-world UFC matches. The telemetry information Hayes' team gained showed that players would play with UFC fighters when they were fighting real-life fights. Players can now forecast results from the real UFC schedule.
Also included is "Custom Events", which lets players design their own pay-per-view, complete with match settings. Hayes suggests this mode can be used for social gatherings to create a dream event.
UFC 2's most ambitious feature is Ultimate Team, which is similar to the trading card fantasy league found in FIFA or Madden games. You get to manage a unit of five fighters, each one created from scratch. You then fight opponents to earn packs, which reveal cards that can be used to improve your group's moves and abilities. There will be a division system in Ultimate Team, and players advance through belt acquisition. Win four times in a row, and a team can challenge for a title belt.
Knockout Mode is suggested by Hayes for beginners and casual fans, and the objective in it is to KO your opponent. No submissions are involved, and you are only required to punch and kick until your opponent is defeated.
Career Mode is practically a given, considering UFC 2 is a sports game, but this time around the mode has been significantly updated. Fight progression has been revamped, and a focus is put on making decisions. Training camp features a quality meter, where players can choose between easier workouts that are safer, versus harder drills that are more prone to injuries. You can suffer either the usual wear-and-tear injury, which appears to gimp attributes and heals over time; or serious injuries, which are temporary but can severely affect your next fight.
Dynamic Grappling is introduced in the game, and Hayes believes this will affect all MMA titles in the future. Traditionally, it was only possible for an opponent to defend against submission attempts, but now both players can engage each other at the same time in what is described as a "fluid grappling system". Hayes described the system as "revolutionary", and that it dramatically changes the fight on the ground.
EA Sports UFC 2 will come out on March 15th in North America, on the PS4 and Xbox One. Europe gets the game on March 17th.
What do you think of this new info on UFC 2? Let us know in the comments below!