This news may dishearten many gamers but we don't have any other option left but to deliver this heart-wrenching information. The much awaited Total War: Warhammer has been delayed. Yup, you heard us right as this highly anticipated game won't launch on April 28 anymore. The launch date has been shifted to May 24 this year. Though the delay is not even that of a month but it is still enough to disappoint the fans who have been waiting for months now.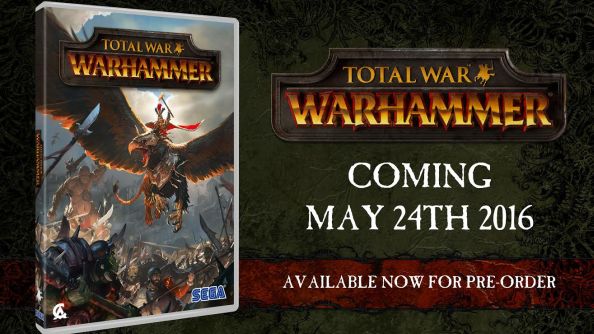 Creative director of the game, Mike Simpson said that he could understand the frustration and the disappointment among the fans but he was in no hurry to rush the game and compromise with its quality.
In an official statement, he said, "This could be the best Total War game we've ever made. We don't want to rush it."
Well, the fans need to embrace this fact and the developers would do a greater sin by rushing the game and compromising with the gameplay experience than by delaying it for a few weeks.
In the meanwhile, Creative Assembly has precisely pinned out the detailed system requirements for running this game at different configurations. So have a look at these and see for yourself whether your rig can run this beast or not. If not, you've still more than a month to upgrade your system to meet the requirements. However, note that this Total War game will run only on 64-bit OS.
| | | | | | | |
| --- | --- | --- | --- | --- | --- | --- |
| | FPS | OS | Processor | RAM | Graphics Card | Default Graphics Preset |
| Minimum | 15-25 | Windows 7 64Bit | Intel® Core™ 2 Duo 3.0Ghz | 3 GB | AMD Radeon HD 5770 1024MB | NVIDIA GTS 450 1024MB | Intel HD4000 @720p | Low |
| Recommended | 45-55 | Windows 7/8.1/10 64Bit | Intel® Core™ i5-4570 3.20GHz | 8 GB | AMD Radeon R9 270X 2048MB |or NVIDIA GeForce GTX 760 2048MB @1080P | High |
| 60+ FPS | 60+ | Windows 7/8.1/10 64Bit | Intel® Core™ i7-4790K 4.0 GHz | 8 GB | AMD Fury X or Nvidia GTX 980 @1080P | Ultra |
So have a look yourself whether your rig is prepared for this Total War game or not. The game is going to release soon and we hope that it would meet the expectation of thousands of fans worldwide.