2016 seems to be by far the worst year for torrent sites. As if having to lose a significant amount of traffic to streaming sites was not hard enough, they are also struggling against the tremendous pressure law enforcement agencies have put them through.
The result – three of the world's largest sites have shut down within a span of just a few months.
Following the shutdown of KickAssTorrents and Torrentz, now TorrentHound has officially announced the ending of all operations.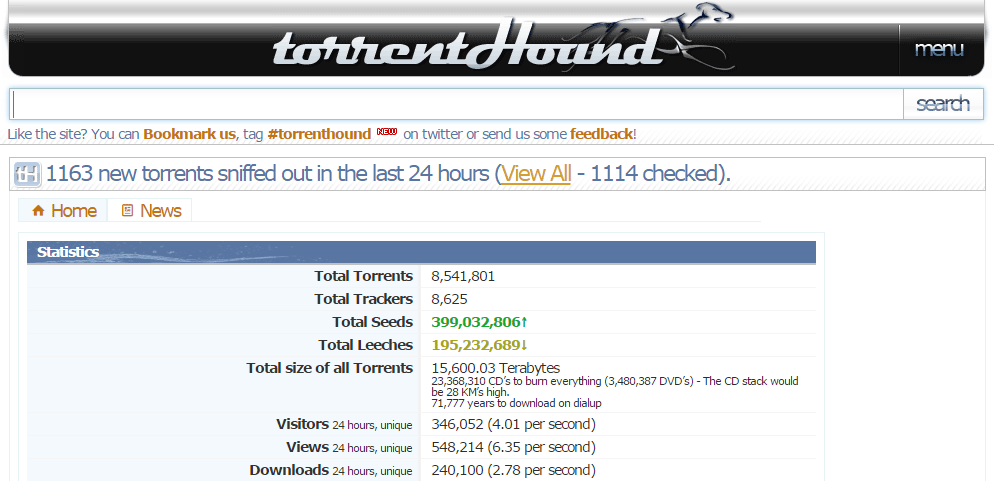 TorrentHound has been around since 2007 which makes it not only one of the largest, but also one of the longest operating torrent sites in the world.
Even though the site never actually reached the pinnacle of success as done by mainstream crossovers such as KickAssTorrents and The Pirate Bay, that might have been actually a blessing in disguise for the men behind the site. (After all, it's always easier to run an entity like TorrentHound if you stay below the radar.)
However, that is not to suggest that its owners remained anonymous forever. As this report by the TorrentFreak points out, law enforcement agencies and copyright intelligence groups eventually began operations to take down TorrentHound and nab its owners.  
In their final message to users, TorrentHound admins didn't have much to say. The closure announcement just had the word "finito", accompanied by the text "TorrentHound.com – ca. 2007 to 2016."
There's also a list of websites that the admins describe as "not terrible places left for torrents", linking users to torrent sites such as TPB, ExtraTorrent, and a few other alternatives.
And finally, just to ensure that the closure was not missing the element of humor, they embedded this video of a …. (ah, well, no spoilers, watch it yourself).
However, no reason was given as to why the site had to stop its operations all of a sudden. But judging by the events unfolding in the past few months, probably the site owners reached the conclusion that keeping TorrentHound alive wasn't worth the risk anymore.