Toriko chapter 396 was released recently, and it left many fans disheartened as it was the last chapter of the series. The last chapter was a rather amazing one as everyone was seen living a happy life.
Here is a short recap of Toriko chapter 396.
Toriko Chapter 396 Recap
In chapter 396, few years after the grand wedding, Komatsu visited Take. It was revealed that Take managed to build a castle park which has houses for orphans to live. Take also feeds those orphans with god, and he even creates god artificially so more people can taste this amazing dish. This indicated that Take's dream about building something like this finally came true. Komatsu then got to learn that Ume is also doing pretty well with the cooking school he built.
As Ume is one of the few who have mastered creating the god, many big chefs have been visiting his academy. The latter is revealed to be teaching others how to cook god too. After a while, Take asks him if he is still going on adventures with Toriko or not, to which Komatsu replies by saying that yes. He tells him that it is still the same. Komatsu then says his farewell to take and head towards where Toriko is.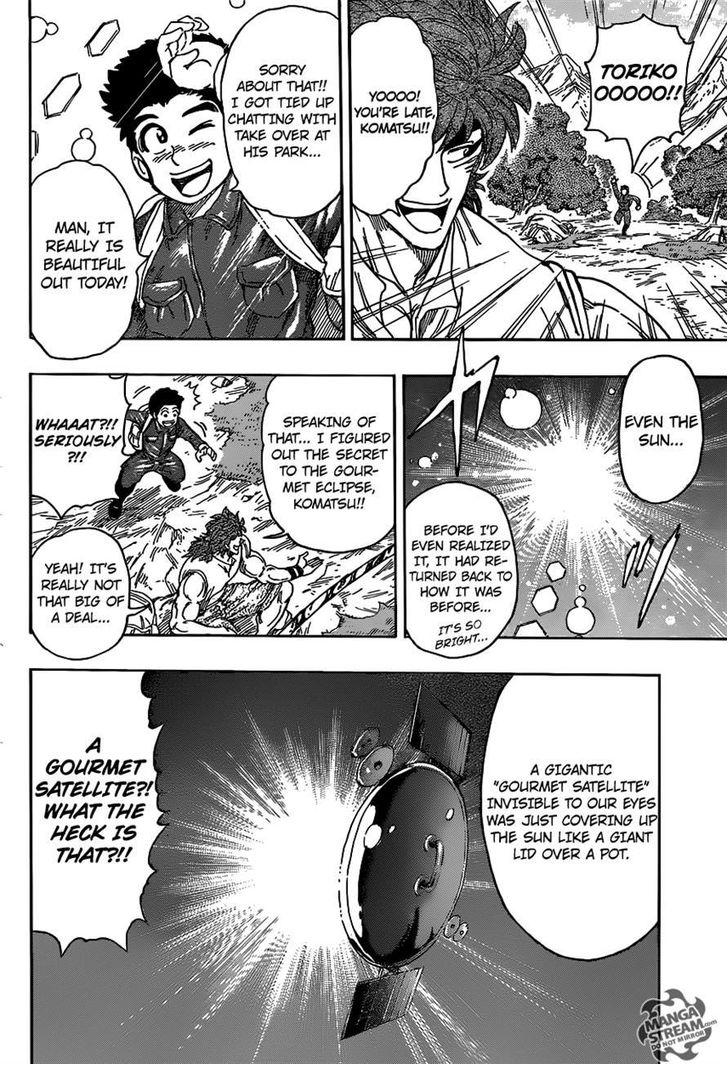 Komatsu is then seen running towards Toriko, who is revealed to be fishing. Both got a smile on their face after seeing each other and they then talked about gourmet gods. The two talked about what they can expect to see in space, while Toriko tells him what his appetite demons told him about how things were 13.7 Billion years ago, before the Gourmet Big Bang. After getting excited, Toriko takes out a Mini – Amshell, which the two used to travel into space. It was later revealed that the Eight Kings retired a few months ago, and many others are now trying their best to take their place. At the end of the chapter, Toriko and Komatsu finally arrived in space. The chapter ended with the two witnessing ingredients they have never ever seen before.
Toriko Spinoff In The Works? 
The series had a pretty neat ending, but it still left many fans disheartened. However, they don't have to feel that down as according to Shueisha's 51st issue of Weekly Shonen Jump, the writer of the series, Mitsutoshi Shimabukuro will release a one-shot gag manga, which will be for May 2017. However, it will be out in April 2017. Though we currently don't know whether it will be a spin-off or crossover of Toriko, but fans can definitely expect it to be as good as the Toriko series.
Let us know what you think about the future of Toriko in the comments below.