Wondering how to watch the movie you have on the DVD on your smartphone? How do I convert the video on the DVD to a format that my smartphone supports? Or even save the movie in a format that I can play on my desktop PC anytime I want? Well, we came across WinX DVD Ripper Platinum that does the job so well that I decide to abandon well-known but unstable Handbrake. Let's take a look at what WinX DVD Ripper Platinum is capable of.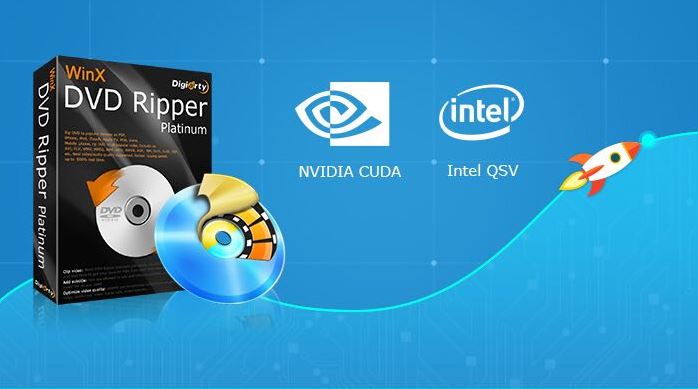 WinX DVD Ripper Platinum: What's that?
Speed
WinX DVD Ripper Platinum is basically Windows-based software capable of ripping any DVDs/ISO images to hard drive, such as rip DVD to MP4, H.264, AVI, MPEG, WMV, MOV and M2TS. Also, it converts DVDs for playback on Apple (iPhone, iPad, Apple TV, iTunes), Android (Samsung, Nexus, Kindle), Microsoft (Xbox, Windows Phone, Surface), Sony, etc. WinX DVD Ripper Platinum comes with 350+ built-in profiles and has 4 unique DVD Copy modes.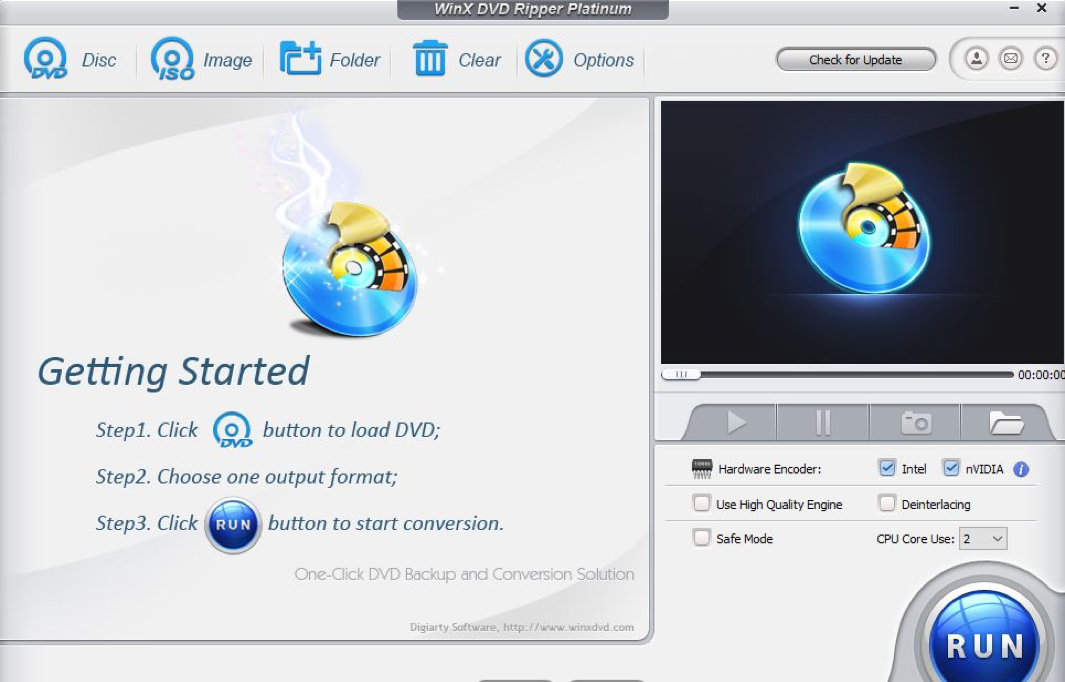 Using WinX DVD Ripper Platinum, you can clone DVD disc to ISO image. You can also backup DVD main title content for playing on PC, PS3, PS4, Xbox, and Media Center. You can also copy DVD title fully to a multi-track MPEG2 with all videos, audios, and subtitles.
WinX DVD Ripper Platinum Review
When it comes to speed, WinX DVD Ripper is one of the leading software out there, much faster than Handbrake. We found the ripper amazingly fast – it took us only 5 minutes to convert a DVD movie. With support for Intel QSV and Nvidia (CUDA) NVENC-based hardware acceleration and hyper-threading, WinX DVD Ripper Platinum was able to convert the whole movie at an amazing speed. The software supports speeds up to 32x real time faster, 500 FPS maximally. It can utilize Intel Core i5/i7 CPU, GeForce GTX 1080 Ti and deliver stunning DVD rip speeds. We must say we're impressed!
Supported Formats
There are very few DVD ripper softwares out there that support many video formats. WinX DVD Ripper Platinum supports almost all formats – so you are guaranteed to have worry-free conversion of DVD to AVI (DivX/Xvid), MP4, MPEG, WMV, AVC, TS/MTS/M2TS videos and other PC general videos, DVD to MOV and M4V accepted by Mac, and DVD to FLV and more for sharing on YouTube, Facebook, Vimeo and other websites with 350+ profiles!
Automatic Conversion
WinX DVD Ripper Platinum automatically converts DVD to AVI, MP4, MPEG-2, WMV, FLV, MOV, or just a soundtrack. It also allowed us to select a template for iPod, Apple TV, Samsung devices, PSP, iPhone, iPad and HTC devices. We were quite happy to see that the software also allows us to tweak the audio and video quality for smaller or larger files. The ones we converted played perfectly.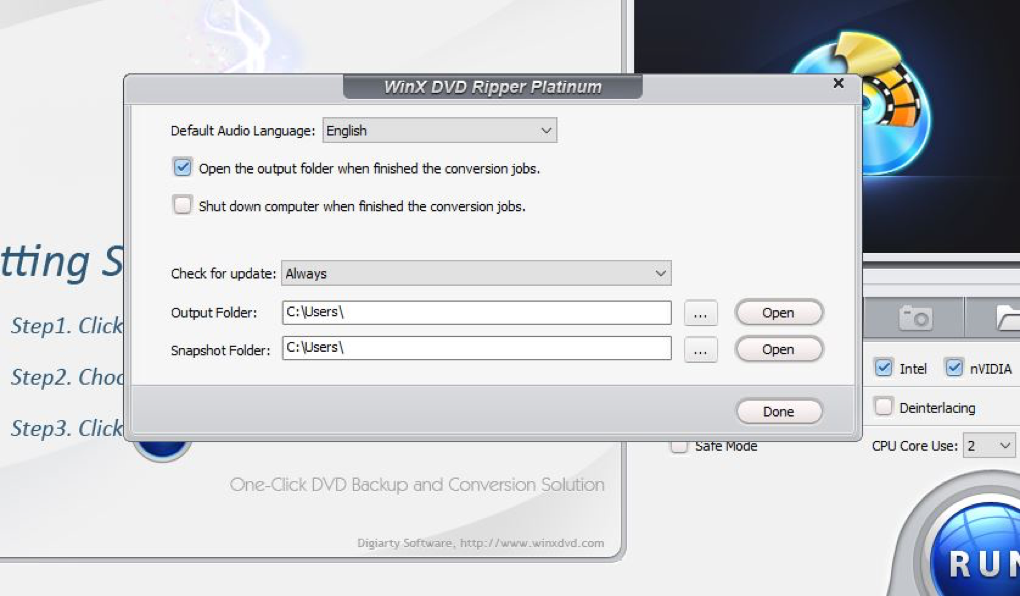 Customization Features
WinX DVD Ripper Platinum offers advanced rip customization features that allow you to fine-tune the conversions. For example, we were presented with options to adjust technical aspects of the video, including bitrate, frame rate and aspect ratio before rip. With a basic video editor built-in, WinX DVD Ripper Platinum allows you to trim footage, edit subtitles and even crop video.
Minimum Converted File Size
WinX DVD Ripper Platinum does an amazing job when it comes to conversion. When you convert a movie from DVD into AVI or MP4, there's always a good chance that the conversion software will bloat the converted file size. WinX DVD Ripper Platinum, however, does a good job and doesn't bloat the file size. The videos we converted were of manageable file size and we didn't see any drastic increase in file size of the converted videos.
User Interface
WinX DVD Ripper Platinum is designed to be very user-friendly. The home screen of the software is very well designed and provides an overview of the functions you can perform. The 'Options' tab shows the available preferences. For example, you can select the option to open the output folder when the conversion is complete. Or you can shut down the computer when the conversion is done. With easy-to-navigate menus and clean icons, WinX DVD Ripper Platinum has one of the best UIs.
Flexible Settings
For advanced users, WinX DVD Ripper Platinum offers flexible choices to fine-tune and adjust parameters to tailor the output videos. You can customize and apply your own settings – including bitrate, frame rate, aspect ratio, resolution, video audio codec, audio channel number, sample rate and more.
Our Verdict
WinX DVD Ripper Platinum is blazingly fast and does a good job converting DVD videos to many standard video formats. It is the ultimate alternative to Handbrake. Although priced slightly higher at $59.95, we definitely think the Special Super Discount price of $19.95 is totally worth it!
Check Also: How to Fix "this copy of Windows is not genuine"
About Digiarty Software

With 10 years of experience in the industry, Digiarty is now a leader in personal and home-use video audio applications based on Windows and macOS. It provides fast and easy-to-use DVD ripper/copier/creator, H.265 video converter, online video downloader, media player, iPhone file manager, video audio streaming app, etc.