Popular app Telegram which recently crossed a 100 million Monthly Active Users (MAU) mark, has rolled out a new update which adds a number of new features and improvement to its app.
The latest update (version 3.7) has increased the maximum numbers of members in a Supergroup from 1,000 to 5,000 members. Supergroups, which was announced last year in November allowed users to form groups of maximum 1,000 members will after update let admins of supergroup inform all active members by pinning an important message at the top. Even if the members have muted ordinary messages from the group they will receive a notification for the pinned down message.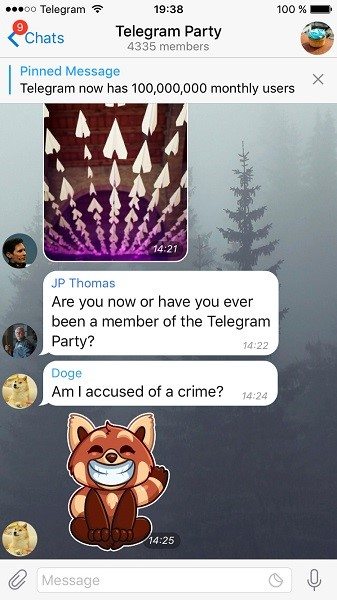 Apart from this supergroup update, Telegram has also got a new functionality that allows admins to make their Supergroups public and get a short link. In this case, anybody can view the entire chat history of the group and can also post messages. Public group feature is already live in U.S. and Europe and will possibly be rolled out gradually in other regions. However, to prevent the possible chances of spam, Telegram has introduced a new moderation tool for group admins which allows them to delete all messages from a specific member in a jiff, and admins can also block and report these spamming users. These features work only in supergroups but now any simple group can be converted into a Supergroup by its creator admin. The app is available for free download via below given source link.
Stay connected for more updates from apps and smartphones and please leave your opinions in the comment box below.