After Costco got its Black Friday Flyer out in the wild, another big retail chain showed a sneak peak of the Black Friday deals. The sale will start at 6 pm on November 24, this is the time when Target will start offering Black Friday Deals. Some of the best discounts include $15 off on some recent games, $50 off PS4 and Xbox One bundles as well as $150 off 9.7-inch iPad Pro.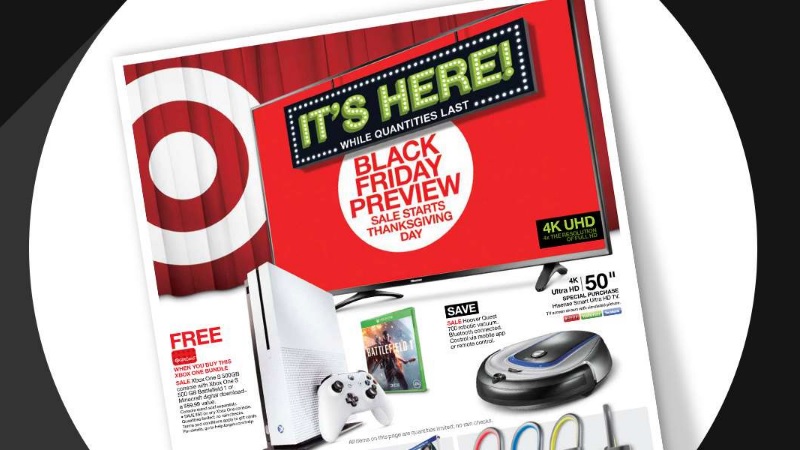 The first discounted  console bundle is $249.99 (down from $299.99) Xbox One S game bundle including 500 GB Xbox One S, Battlefield 1, and a $40 worth gift card, which you can spend on getting an extra controller or another game. The PS4 bundle is slashed from $299.99 to $249.99; it contains the 500 GB PS4 Slim as well as Uncharted 4: A Thief's End. No gift card here.
iPad Air 2, iPad Mini 2 and iPad Pro (9.7-inch version) are also getting sweet discounts. The iPad Air 2 will be sold for $274 (down from $399), iPad Mini 2 will be up for grabs at $199.79, down from $269. Finally, the 9.7-inch iPad Pro will be on $150 discount, selling for $449.
If you like portable gaming, Nintendo 3DS will be on sale during Black Friday.  Nintendo 3DS Super Mario edition will be sold for just $99.99, down from $149.99. Great price for the popular portable console, you'll be able to pick between black and white editions.
Aside from offering cool deals on tablets and consoles, Target will discount selected games. Discounts range from $15 off the original price to games that will cost $25 and $15.
If you want to play an awesome multiplayer shooter, Black Friday will be perfect to get one of the latest multiplayer FPS titles. Overwatch, Titanfall 2 and Battlefield 1 will be on sale, for just $35, even though TItanfall 2 and Battlefield 1 got out just a couple of weeks ago.
Further, there are some nice games going for $30 including Gears of War 4 and Skyrim Special Edition. Games that will sport $25 price tag during Black Friday sale are Doom, The Division, Dark Souls III, Super Smash Bros., No Man's Sky, and Pokémon X and Pokémon Y. Last but not least, Fallout 4 and Street Fighter V will be offered for $15.
If you're one of the gamers that didn't want to pay more than $60 for some of the special editions of the latest CoD: Infinite Warfare just to be able to play Modern Warfare Remastered, we have good news. Call of Duty: Infinite Warfare Legacy bundle, containing Modern Warfare Remastered will be on sale, for $60 (down from $80). Other two sweet deals offer the Guitar Hero Live and Skylanders Imaginators starter pack for just $40.
Target will offer some sweet Black Friday deals, and we can't wait to see deals other retailers will prepare for Black Friday.