About three days are left until the launch of Google's upcoming Nexus devices, one of them the LG Nexus 5X. There have been many rumors and leaked pictures for a long time but now, thanks to a recent FCC sighting, everything seems to be revealed and we are now waiting only on the confirmation.
The FCC Filing doesn't mention the name of the device but we can guess it is the LG Nexus 5X by some screenshots uploaded by LG. What these screenshot show is some regulatory information, but based on the UI of the screenshots, we can see a stock design.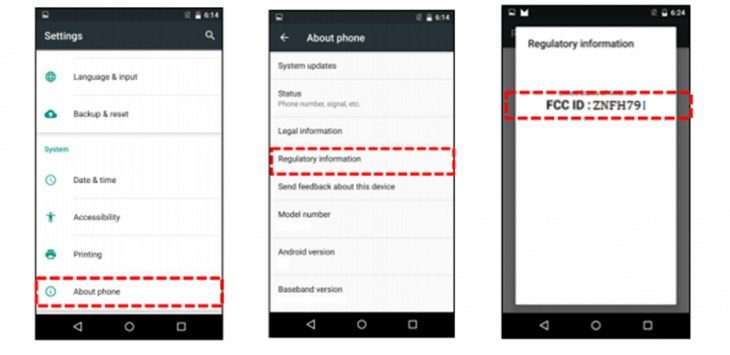 As reported by Ausdroid (via UberGizmo), with Nexus devices based on Android stock, a stock UI is expected. It is very strange that two devices were spotted on the listing, LG H790 and LG H791. This listing suggests that the LG H790 features 5.2-inch display and 146.9 x 72.5 mm overall dimensions, while the H791 was spotted with 4.4-inch display and 146.1 x 72.2 mm dimensions.
Wireless bands include:
2G:850/1900MHz
3G (CDMA): Band 2/4/5
LTE:

LG H790:

FD-LTE: Band 2(1900MHz)/4(1700MHz)/5(850MHz)/7(2600MHz)/12(700MHz)/13 (700MHz)/17 (700MHz)/25 (1900MHz)/26 (850MHz)
TD-LTE: Band 41(2500MHz)

LG-H791:

TD-LTE: Band 2(1900MHz)/4(1700MHz)/5(850MHz)/7(2600MHz)/17 (700MHz)/26 (850MHz)
FDD-LTE: Band 41(2500MHz)
It is very unlikely that there will be two different Nexus devices with different screen sizes from the same manufacturer. Let us wait and watch what actually happens!