With its Surface Pro and Surface Book series of high mobility laptops, Microsoft manage to light a spark of interest for 2-in-1 laptops running under Windows 10. Many manufacturers followed Microsoft and decided to release their own 2-in-1 Windows solutions.
Today, lots of new Windows laptops are following the formula, making it easier for consumers. It's better to have one device that can be used both as a laptop and a tablet, than having to buy two separate devices. Since 2016 saw lots of great 2-in-1 devices we decided to pick a couple of the best ones and compare them,  easing up your decision of which 2-in-1 to pick up.
Lenovo Yoga 910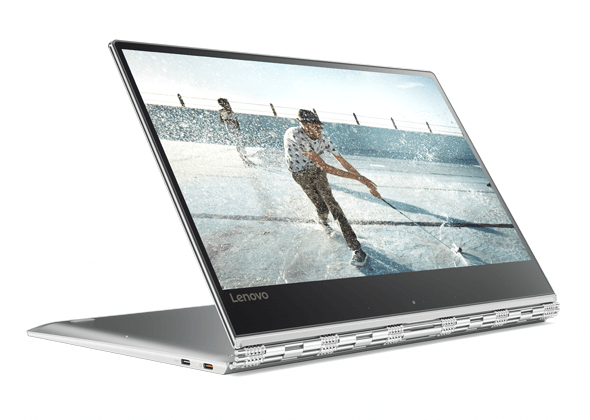 Lenovo Yoga 910 is one highly capable 2-in-1 Windows device. It comes equipped with seventh-generation Intel Core i7 processor, up to 16 GB of DDR4 RAM, and up to 1 TB of SSD storage.
The laptop features a 13.9-inch IPS LCD display, available with 1080p or 4K (3840×2160) resolutions. Although the display isn't detachable, it can be folded all the way to the backside, allowing the device to be used as a regular tablet. Lenovo Yoga 910 is equipped with a backlight keyboard, JBL stereo speakers, and a battery that can power the device for nine hours.
The Yoga 910 has a starting price of $1,329.
Microsoft Surface Book 2016
The latest iteration of Microsoft's Surface Book is one seriously powerful 2-in-1 device. It comes with a sixth-generation Core i5/Core i7 CPUs and Nvidia GTX 965M graphics card that can run most newer games. The Surface Book can be equipped with a 128/256/512GB/1TB SSD storage and has 8/16GB of RAM. The device sports a 13.5 display with a resolution of 3000×2000 pixels.
Its battery can provide up to 16 hours of power, which is an incredible result for a laptop. The base is detachable so it can be used as a tablet, and the Surface Book comes with a stylus support. The base model is priced at $1,499 (Core i5, 8Gb of RAM, 128 Gb SSD), while the most powerful model (Core i7, 16 GB of RAM, 1TB SSD) can be yours for $3,299.
HP Spectre X360
The Spectre X360 offers the seventh generation Core i5/Core i7 CPU, a choice between 128/256/512GB SSD, and two screen sizes (13 inches and 15 inches). The display comes with 1080p or 4K (3,840 x 2,160 ) resolution, and you can choose between 4/8/16GB of RAM.
The graphics card offered is Intel HD graphics 620, more than enough for business users. As is the case with the Yoga 910, the display can't be detached, but it can be folded in order to use the device as a regular tablet. The battery offers up to 12 hours of video playback, an excellent battery life.
The base model (13-inch 1080p display, 128GB SSD, Core i5, 4 GB of RAM) can be yours for $899.
All three devices are excellent 2-in-1 laptops, all having some unique advantages. If wanting a detachable base, the best hardware, and don't mind about the price, go for the Surface Book. HP Spectre 360 is a solid choice for all wanting to own a powerful 2-in-1 device, but don't want to pay more than $1000 for it.