Super Mario Run was recently announced on the iPhone 7 during the Apple Event. The game will be a 2D side scrolling endless runner in the vein of games like Temple Run. However, the game will not be coming to Android devices this year. Nintendo confirms the game will not be coming to Android devices any sooner than the end of the year. Super Mario Run release date is set to December of 2016 but an exact release date has yet to be announced. Super Mario Run gameplay was also revealed on Nintendo Mobile youtube channel.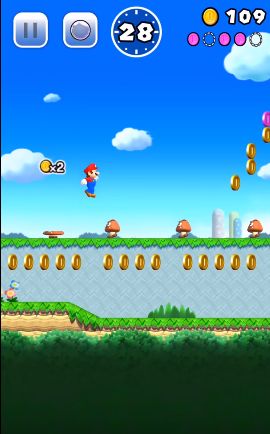 Super Mario Run Gameplay won't be available to Android devices
Super Mario Run release date for iOS devices (iPhone and iPad) is December 2016. Nintendo mobile showed a very small demo on their Youtube channel. Super Mario Run gameplay looks quite unique and fun. The game isn't a 3D side-scroller with a back end camera following the player like in Temple Run but more of a side-scroller like the original 2D Mario games. You can join the app website at supermariorun.com to get updates of when the game comes to the app store. The game will be free to download and will include free additional content. There will be microtransactions in the game which you can purchase from the app store. These microtransactions will most likely give you extra lives and other benefits.
Nintendo has yet to reveal any more details. Nintendo announced other games like Pokemon GO for the Apple Watch and a new buddy system for Pokemon GO. We'll keep you updated with all the juicy news and details. Nintendo previously announced a slew of new games for the 3DS like Super Mario Maker for the Nintendo 3DS and Pikmin 3DS. Nintendo NX details weren't announced but we'll let you know the moment we get wind of some details. Stay tuned to MobiPicker.