If you're worn out on games with drab pellets and dramatic characters, then Sunset Overdrive is just the game you need to lift your spirits. It's a liberating experience that trades in rules and drama for freedom and pure unadulterated enjoyment. And it never pretends to be anything than but to swear like a sailor, jump off a sky scraper and blow up a gang of monsters. Sunset Overdrive PC will also be arriving soon but there's a catch.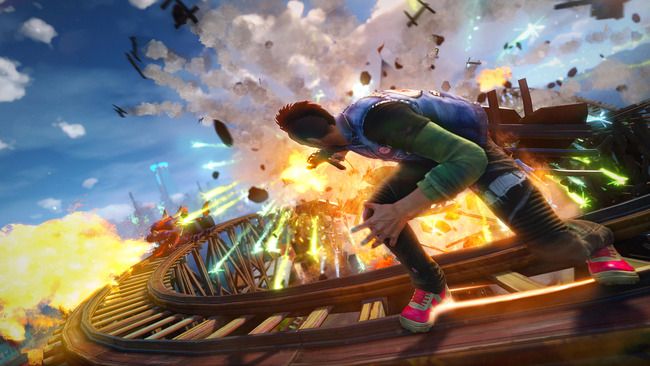 Sunset Overdrive PC will release if developer gets permission from Microsoft's Xbox Division
we'd love it if it could happen but ball is in Xbox's court on it

— Insomniac Games (@insomniacgames) September 26, 2016
It's the end of days after the evil fizzy drinks corporation poisons almost the entire population of Sunset City. They turn into violent rage beasts known as OD. It's up to you to kill the horde and liberate the city. You get to customize a character according to your aesthetics from a wide variety of silly options.
Sunset Overdrive PC will be as immature as the game was on console. Although we do expect better performance as long as they don't mess up the port. The game is full of swears and has almost as many F bombs as the House of the Dead game. However, unlike that game, the vulgarity never feels forced. And it reinforces the attitudes that permeate the game.
Sunset Overdrive is an open world third-person shooter video game developed by Insomniac Games and published by Microsoft Studios for the Xbox One. It was announced at Electronic Entertainment Expo 2013, and released worldwide in October 2014.
Let us know what you think of this Sunset Overdrive PC news. Stay tuned to MobiPicker for more updates on this story. Will you be buying the game if the developer agrees to release the game on PC? Let us know in the comments. Microsoft may also used its latest encryption technology to keep the game piracy-proof.