Subway Surfers needs no introduction, as it is one of the most popular games among Android users. Even though Temple Run gave us our first taste of endless running games, Subway Surfers took it to another level with different features and different locations. All you need to do is run, jump, grind trains, surf on hoverboards, fly with the jetpack, perform acrobatics as fast as you can, and escape the grumpy Inspector with the dog.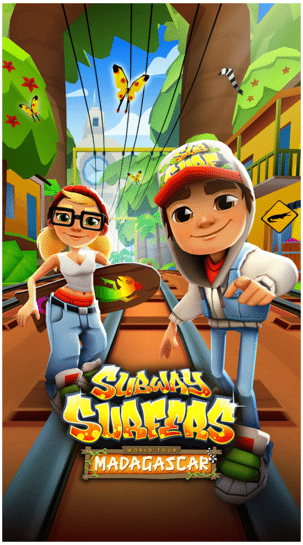 You might already know that with every major update, Subway Surfers goes to another city, which is why it has been named as Subway Surfers "World Tour". Different cities bring different environments to play in, and you find different collectibles that give a whole new air to the gameplay. And with the latest Subway Surfers 1.53.0 APK update, the game has now reached the exotic Madagascar!
The new Subway Surfers APK update has been released today, and the World Tour now goes on in Madagascar. You now get to play in the great valleys and tropical rainforest of the island Subway. You can also add the hip nature lover Aina to your Surfer crew, and there's a new Chameleon board that lets you blend in with nature more easily. There are new colorful Butterflies for you to catch in the Subway, and they will earn you Weekly Hunt prizes.
The new Subway Surfers 1.53.0 APK download file is 55.22 MB in size and can be installed on all phones and tablets running on Android 4.0 or later. You can download Subway Surfers APK latest version for Android devices from aptoid.com.