Today we'll give our Star Trek Online Console impressions. It's a game from Cryptic Studios and Perfect World. It was released for PC and Mac back in 2010 and just recently released for next-gen PlayStation 4 and Xbox One. After a long voyage on the PC, the game now carries onto the new console platforms with a new lighting engine and optimization for controller-based gameplay. So, is the game just your average WarCraft wannabe MMO or is it the Kirk edition which flips off all other MMOs and space-based multiplayer games and secures a spot for itself in the genre, all in its glory and elitism? Let's find out. Here's our Star Trek Online Console Impressions.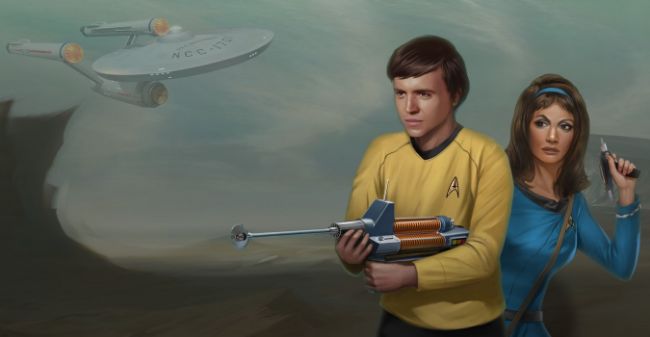 Star Trek Online Console Impressions – The game has amazing graphics, space battles and corridor shooting and fights on rival ships never looked better!
After the questionable affair that's the main Neverwinter on consoles (by the same developer) we weren't so optimistic about Star Trek Online's graphics on consoles. But we knew that the folks over there were pushing a new system with improved lighting effects. When you're exploring with your crew in an inter-Nebulae and get attacked by rival ships and have laser beams shot at you, just notice the resulting lighting effects and you'll see what we mean.
The game has amazing combat
This game does it most in inter-galactic combat as well as team-based corridor shooting. For example, flying away from the burning and crackling debris of rival ships and watch as the enemies regret the decision of taking on your over-powered star ship. The graphics look much better on the console. Many of the beam attacks look fully 3D. They give you the feel of a typical inter-galactic space combat like the one in JJ Abrams Star Trek.
Almost endless customization for your ships!
Ship designs continue to excel. The ability to customize them as you go and adding new colors means you'll have a completely new looking ship by the time you level-up considerably. The new HDR lighting effects make the rear and front lighting on the ships look spectacular. This adds a good deal of depth and scale which was not present in the PC/ Mac version.
Consistent frame rate
We did a battle with a legion of Clingons. Our ship lit up like a Deathstar version of a Christmas tree. However, the frame rate was fine and a consistent 30 to 45 fps throughout. This remained the same even inside the nebulae while we kept pressing the buttons of special powers to counter enemy attacks. The lighting effects looked spectacular and the game didn't lag one bit.
The sound effects and music are on point
Everything in the space section sounds awesome. Deep moving propeller sounds from the ship blasters as they fire laser rays at rival ships. Crackling of expelling energy in your ship's belly against the ship's laser cannons whenever they are fired gives you everything you need to get that geek Star Trek vibe. The corridor and ground-level shooting carries the same effects. The music is also amazing and on par with the movie counter-part of the game.
Let us know what you think of our Star Trek Online Console Impressions.