A new teaser on the Samsung Galaxy S6 and Galaxy S6 Edge is making rounds all over the net, and it seems to be true.  One of the verified Sprint employees has uploaded an image on social site "Reddit" showing both the smartphones. The image reads "Pre-register for the Samsung Galaxy S6 and S6 Edge that are coming soon and you'll be entered for a chance to win one of six GS6 devices that are being given away each week for a limited time." Further, at the end of the image, it reads "Offer ends 3/26/15", means the given away offer ends on March 26.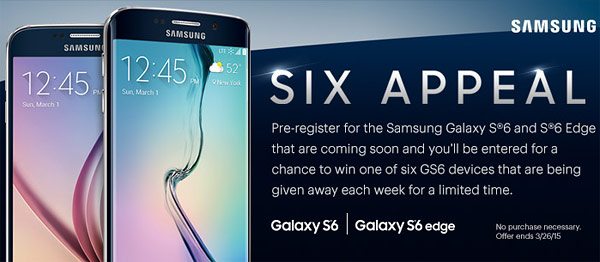 Previously, Itskins, a case manufacturer, confirmed shipment of Galaxy S6 cases on [highlight]March 15[/highlight]. After that, AT&T teased the device labeled "Spring 2015" and that again points to March – as Sprint starts on [highlight]March 21 [/highlight]this year.
So far, all the teasers points to late March, which means the flagship should launch somewhere in 4th week of next month, at least in the West. The device will hit the Indian market in the first week of April.
One date is confirmed though – both the flagships will be presented on March 1 at the Barcelona. So, be ready at 5:30pm GMT to get live reports.