SpaceX's Dragon spacecraft, which took off on Sunday with 5,500 pounds of supplies and experiment materials for the crew of the International Space Station (ISS), has successfully docked. That's indeed a much-needed good news for Elon Musk-led SpaceX that has been undergoing quite a bumpy ride for the past several months.
The nervousness was apparent at NASA headquarters too, as the spacecraft missed its initial attempt at meeting up with the ISS due to what was later described as a minor navigational error.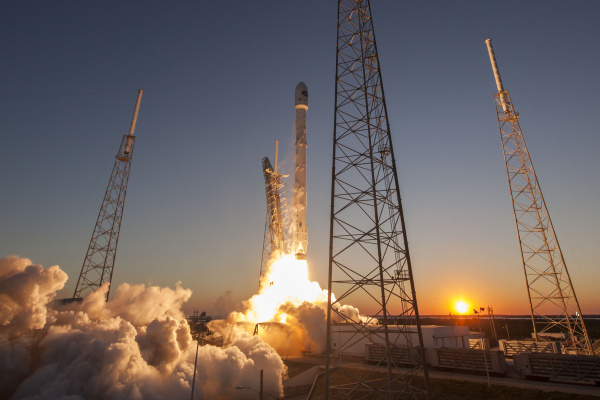 Perhaps, in an attempt to prevent panic and misinformation among the public and stakeholders, the team overseeing the mission's progress was quick to assure that the glitch would be taken care of real soon.
Subsequently, another attempt was made later on Thursday morning which, SpaceX has since announced, completed successfully. The Dragon craft was captured by the ISS's robotic arm as planned before bringing the capsule and its heavy cargo attachment into dock at the station.
SpaceX confirmed the news via its Twitter handle as shown below:
Spacecraft moving closer to @Space_Station. Dragon go for capture sequence → https://t.co/XbCVPGwLuR pic.twitter.com/TUxzjAkCqy

— SpaceX (@SpaceX) February 23, 2017
Capture confirmed! Dragon now attached to the @Space_Station robotic arm pic.twitter.com/07axPcBm20

— SpaceX (@SpaceX) February 23, 2017
Installation confirmed! @SpaceX's #Dragon cargo vehicle was officially attached to @Space_Station at 8:12am ET. Info https://t.co/ObhqxhGoHB pic.twitter.com/YQCUCUOEeM

— NASA (@NASA) February 23, 2017
All the equipment in the Dragon capsule will be gradually shifted to the ISS during Dragon's one-month stay at the space station. Once all its content are delivered, the capsule will embark on its return trip to Earth with a pre-scheduled splashdown in the Pacific.
Worth noting, yesterday's was not the first hiccup SpaceX and NASA had to endure with the mission. SpaceX originally planned to launch the Falcon 9 rocket carrying Dragon on Saturday, although the takeoff was aborted following the discovery of a potential glitch.
[Related: SpaceX News: Falcon 9 Launch Delayed At Last Moment | Here's Why]
It was the hfirst rocket to have launched from Kennedy Space Center's iconic LC39 since NASA officially wrapped up its space shuttle program in July 2011.