Sony has announced two new action cameras called the FDR-X3000, and the FDR-AS300. Both action cameras feature Sony's Balanced Optical SteadyShot image stabilization [OIS]. Strangely enough, the OIS feature has been missing from the action cameras so far. The Sony FDR-X3000 is capable of capturing 4K videos, while the FDR-AS300 comes with Full HD video recording capability. Both cameras will be available in North America in late September. The cameras were already available in certain regions.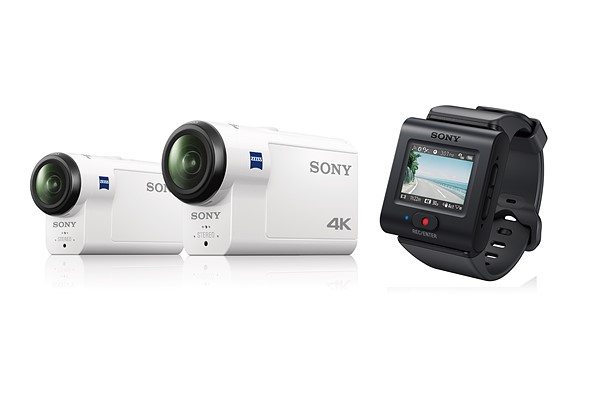 The Sony FDR-X3000 and FDR-AS300 sport new Zeiss lens designs. Both feature 17mm ultrawide-angle lens (35mm equivalent). Both action cameras feature 8.2MP BSI Exmor R CMOS sensors with full sensor readout and no pixel binning. Compared to previous action cameras from Sony, the user interface and menu system features vast improvements.
The OIS feature is a great addition to the action cameras. So far, most action cams have featured electronic image stabilization (EIS), which does not help often. In fact, EIS can hurt image quality, narrow the field of view, and even reduce resolution. Sony is using BOSS system – Balanced Optical SteadyShot – with the camera's lens and image sensor to compensate for camera shake. The mechanical feature allows you to get the full lens view in 4K or full HD.
Both action cameras can be paired with an updated version of Sony's Live-View Remote. The new Live-View Remote is 30 percent smaller than the previous model. It offers you full controls [including power on/off using low-power Bluetooth] along with a view from the camera. Sony has also added a high-power Wi-Fi mode, which allows the remote to be used from greater distances.
The X3000 has been priced at $400 [body-only]. As part of a kit, you'll get a new 30% smaller live view remote (X3000R) for $450. The AS300 is available for $300 [body-only]. The kit with the new live view remote (AS300R) comes at $450. The new Sony FDR-X3000 Action Camera is now available to pre-order at BHphoto.