The Descendants of the Sun stars Song Joong-ki and Song Hye Kyo won the Grand Prize (Daesang) at the 2016 Korean Broadcasting System (KBS) Drama awards. During the ceremony, it was quite evident that the co-stars were extra sweet to each other. Praising Song Hye Kyo in his acceptance speech, Song Joong-ki said – "Usually, the woman should cry, but we're reversed. I want to give her all this honor to my lovely partner, Song Hye Kyo". And Song Hye Kyo also praised Song Joong-ki in her tweet –  "Being able to receive Grand Award, it's because Song Joong-ki was my co-star. If it wasn't him, I wouldn't be there to deliver my speech."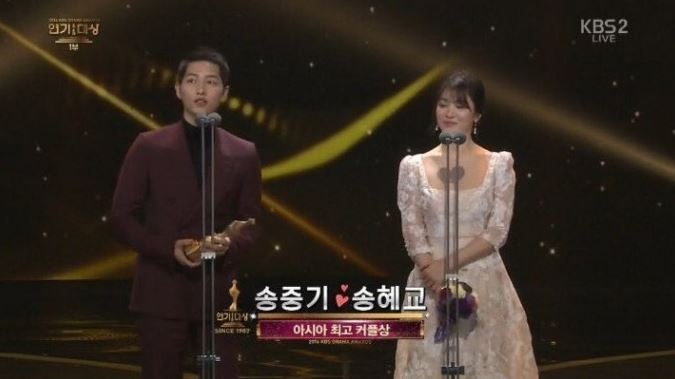 Song Joong-ki and Song Hye Kyo to get married?
Ever since Song Hye Kyo posted a photo of herself and Song Joong-ki at the 2016 KBS Drama Awards on Instagram, fans have been wanting the duo to get married. Many are speculating that the duo are actually dating each other, even though the stars have denied. Recent Instagram post by Song Joong-ki seems to be adding fuel to their wedding rumors.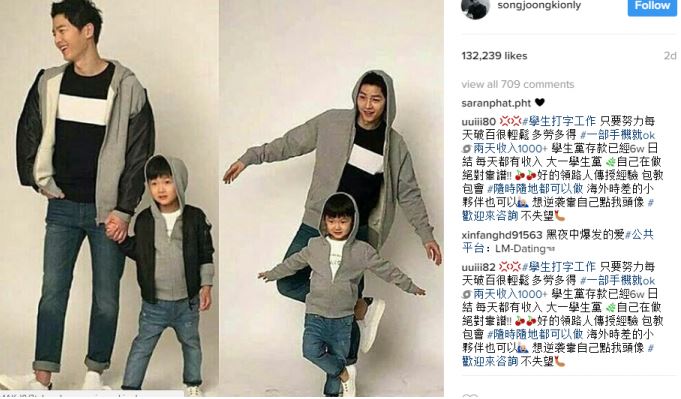 On Feb 7, Song Joong-ki posted pics on Instagram with two young boys wearing gray and black hoodies. In one of the photos, he is seen with a black T-shirt and a gray hoodie with black sleeves, blue jeans and white sneakers. In another photo, the Descendants of the Sun star is seen wearing the same T-shirt and hoodie with a younger boy wearing gray hoodies. The pics were flooded with comments by fans requesting Song Joong-ki and Song Hye Kyo to get married.
Song Joong-ki and Song Hye Kyo's wedding invite leaked?
Another incident has also added fuel to the speculations going around about the duo being involved in a relationship. An error by Langeige – Song Hye Kyo's endorsement – made fans really happy and cheerful since it hinted that the actress would soon get married. The post reads – "Laneige's goddess spokesperson, Song Hye Kyo, and oppa have recently confirmed the wedding date – so happy – can only hope that one day cupid will look upon me too." The website then claimed that the information was based on the wedding invitation received by SongSong couple's friends. Although the authenticity of the wedding invite leak couldn't be confirmed, many fans want to believe that the duo will get married soon.
Will the duo get married soon? Would you love to see Song Joong-ki and Song Hye Kyo getting married? Post your thoughts about the adorable couple in the comments section!