Descendants of the Sun stars Song Joong Ki and Song Hye Kyo have won many a hearts. Of late, fans have expressed their desire to see the on-screen SongSong couple as a real-life couple. Aside from asking them to appear in Descendants of the Sun 2, fans have been posting comments on Song Hye Kyo's Instagram pics requesting the duo to get married soon. There have been many occasions where the duo have expressed respect and admiration for each other.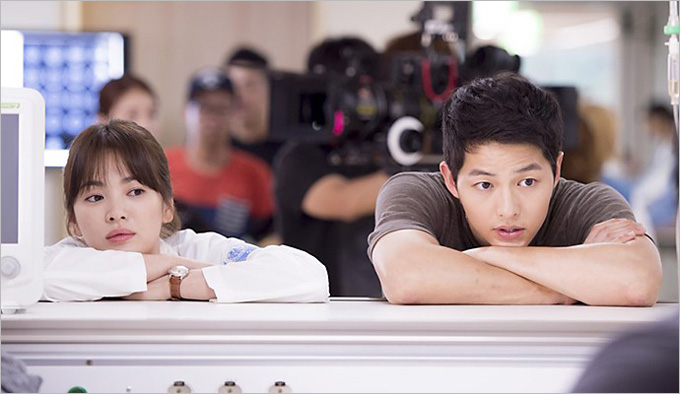 Song Joong Ki shows true love and respect for Song Hye Kyo
The Descendants of the Sun star has recently expressed true love and respect for his co-star Song Hye Kyo. At the 29th Korean Producer Awards that concluded last week, Song Joon Ki won the best actor award for his role as Captain Yoo Si Jin in the epic awe-inspiring Korean television drama series Descendants of the Sun. The actor bagged the award with ease, receiving 100% of the votes from producing directors. During his acceptance speech, the 31-year old actor spoke highly of his 35-year old actress.  The actor thanked Song Hye Kyo for the support and encouragement –
"In Korea, actors always steal the spotlight—compared to the actresses. To me, this drama was a big project, as it marked my comeback to the entertainment scene after spending two years in the military. I want to share this glory with my co-star Song Hye-Kyo who shared the burden and constantly reassured me and gave me the confidence by being there for me"
The recent award acceptance speech has once again sparked off rumors and expectations about the duo's alleged relationship. While the Descendants of the Sun stars have explicitly stated and maintained that they are not in a relationship, fans simply refuse to believe so. They like to think otherwise and wish that they both get married soon. One of the directors, Kim Sihyeong, has revealed that the duo usually maintain brother and sister relationship –
"Joong Ki sometimes calls her senior and sometimes calls her sister. The couple look more like good friends"
Will Song Joong Ki and Song Hye Kyo marry soon?