Song Joong-ki was in the news recently after winning the Grand Prize (Daesang) at the KBS Drama Awards 2016. The Descendants of the Sun stars Song Joong-ki and Song Hye Ko also won the Best Couple Award. In his acceptance speech, which was appreciated by his fans, the actor thanked his co-star Song Hye Kyo – "Usually, the woman should cry, but we're reversed. I want to give her all this honor to my lovely partner, Song Hye Kyo." And Song Joong-ki is in the news again – this time for posting on Instagram a photo wearing the military uniform.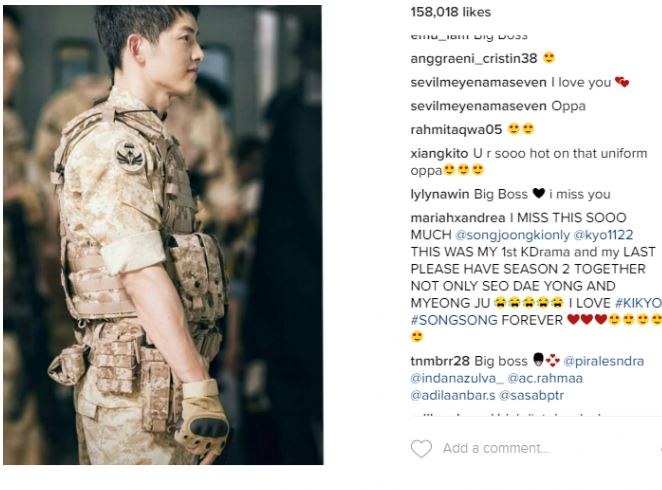 Song Joong-ki posts photo wearing military uniform
Descendants of the Sun star had fans clamoring for more when he posted the pic with army uniform he used in Descendants of the Sun. The post became instantly popular, gathering more than 150,000 likes. Fans began flooding the post with comments about how much they like the photo and also asked for something more.It looks like the fans want Song Joong-ki to star in the sequel Descendants of the Sun 2 as well. But unfortunately, the producers haven't announced anything about Season 2 of Descendants of the Sun. If at all there is Season 2 for the widely popular Koran drama, fans badly want Song Joong-ki to continue playing his role.
One of the fans sotirialazaridou posted, "I wish there was a season 2 … I'll miss my Big Boss." Another fan wrote – "We miss you I wish descendants of the sun has part 2." It looks like the fans really want the SongSong couple to be part of Season 2, if the producers decide to go ahead with the sequel. After the duo won the best couple award at KBS Drama Awards 2016 and after Song Hye Kyo posted a photo of herself and Song Joong-ki at the award ceremony, many fans wanted Song Joong-ki and Song Hye Kyo to get married. They believe that the couple's on-screen chemistry is so fantastic that they have every chance to become a good real-life couple. However, both the actors have ruled out any chances of being in a relationship.