The Descendants of the Sun stars Song Joong-ki and Song Hye Kyo have been extra sweet to each other on several occasions. At the 2016 Korean Broadcasting System (KBS) Drama Awards, Song Joong-ki praised Song Hye Kyo in his acceptance speech – "Usually, the woman should cry, but we're reversed. I want to give all this honor to my lovely partner, Song Hye Kyo". Song Hye Kyo also praised Song Joong-ki in her tweet – "Being able to receive Grand Award, it's because Song Joong-ki was my co-star. If it wasn't him, I wouldn't be there to deliver my speech." Since a long time, fans have been wanting the duo to get married soon. And now, Song Hye Kyo has expressed her desire to get married.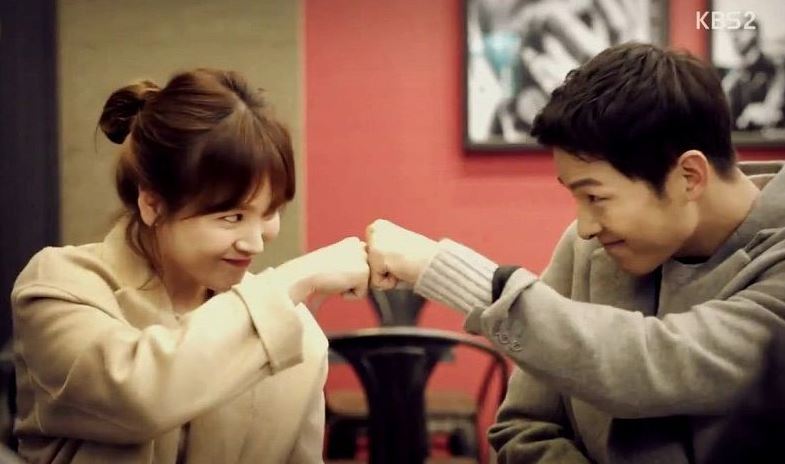 Song Hye Kyo wants to get married soon
Whenever the Descendants of the Sun stars post pics on Instagram, fans flood the pics with comments about them wanting the on-screen Song-Song couple to get married. The characters played by the duo – Captain Shi Jin and Dr. Moyon – have become extremely popular with fans. While there's an awesome chemistry between the two actors on-screen, the duo have time and again denied rumors about their marriage. The actress attributes the stunning chemistry between Dr. Moyon and Captain Shi Jin to directors' hard work and team work.
During an interview with W Magazine, Song Hye Kyo expressed that she is like an elder sister to Song Joong-ki and that they aren't actually dating.
"However, these days I'm close to my labelmate Yoo Ah In and Song Joong Ki, who I acted in a drama with, but to them, wouldn't I just be an older sister who likes to treat them to food?", she says.
On the other hand, she also expressed her desire to get married soon.
"I also think I should get married. I used to think it was easy, but it's getting harder and harder because the people I can date are limited, while my expectations are becoming more specific. When I hear stories from married people around me, my fantasies about marriage fade away little by little", says the Descendants of the Sun actress.
What do you think about the Song-Song couple? Will they get married soon?