Just a day after HTC UK confirmed to unveil a "new HTC One" at MWC on March 1, the HTC USA has tweeted arrival of "something HUGE". HTC USA might be trying to create excitement for the event held at Barcelona on March 1, and it truly didn't given any hint on any device to unveil at the occasion.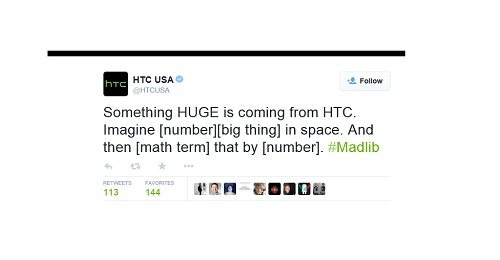 But, we are not dumb and understands that all the tweets and hints are made to attract the youth towards the unveil of their upcoming One M9. And following the tweet, the One M9 is really huge as the smartphone is next flagship of the company.
The tweet reads "Something HUGE is coming from HTC. Imagine [number][big thing] in space. And then [math term] that by [number]. " If we go simply with the calculation of the tweet, it again flash the same number – One M9. Firstly [number] means –  One, then [big thing] in space – it could be Moon, means M, at last [math term] that by [number], and it should be 9 obviously.
However, after all tweet and leaks, we are left only to wait for MWC, where the Taiwanese company will unveil the "something HUGE"