Snapdragon 835 is the most potent mobile chipset by Qualcomm that is powering current flagship smartphones like Galaxy S8, Xiaomi Mi 6 and upcoming flagships like OnePlus 5, Nubia Z17 and more. However, the rumor mill has already started talking about its next generation 10nm LPE (Low Power Early) chipset, the Snapdragon 845. Huawei too is reportedly working on the successor of Kirin 960, the Kirin 970 which is built with 10nm FinFET architecture. A leaked shot has surfaced to show the leaked specs of Snapdragon 845 and Kirin 970 compared with each other.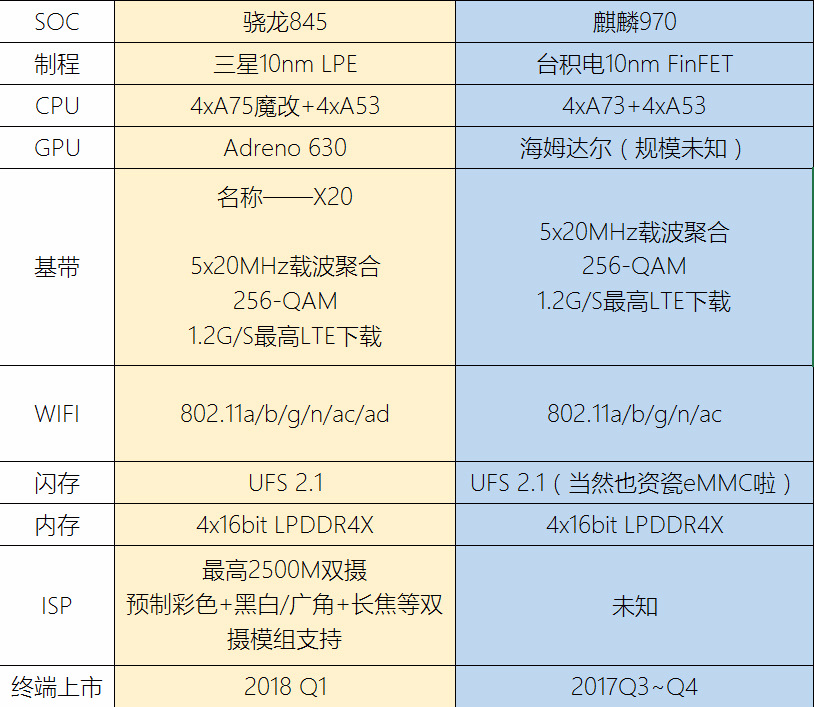 According to the above image that was leaked on Weibo, the Qualcomm Snapdragon 845 would be coming with four cores of Cortex A75 and four cores of Cortex A53 coupled with Adreno 630 chipset. The company is using Cortex cores which indicate that the company won't be using its own Kryo cores for SD 845.
It is equipped with UFS 2.1 storage and 4 x 16-bit LPPDR4X RAM. Its ISP can shoot up to 25-megapixel images. It will be supporting Wi-Fi 802.11 a/b/g/n/ac/ad and offer highest download LTE speeds of 1.2G/s. through X20 modem. The Snapdragon 835 has X16 modem onboard.
On the other Huawei Kirin 970 will feature four cores of Cortex A73 and four cores of A53. The configuration of CPU cores appears to be same as that of current Kirin 960 flagship chipset from Huawei. Its GPU is not known yet.
Like Snapdragon 845, it supports UFS 2.1 storage, 4 x 16-bit LPDDR4X RAM and 1.2G/s download speeds on LTE. It will be also carrying support for Wi-Fi 802.11a/b/g/n/ac. There is no support for Wi-Fi 802.11ad on this chipset. The details on the camera ISP is also not known yet.
The Snapdragon 845 is rumored to launch in the last quarter of this year. However, the leaked image states that it would be released in the first quarter of 2018. It would be probably powering flagships like the Samsung Galaxy S9, Xiaomi Mi 7 and more in 2018. As far as Kirin 970 chipset release is concerned, it is expected to get announced in the third or fourth quarter this year. The Kirin 970 is rumored to power upcoming Huawei flagships such as Mate 10, P11 and P11 Plus, and Honor V10.