Qualcomm has certainly not finished yet the Snapdragon 820, which is apparently undergoing many tests and revisions. Qualcomm tend to be more careful this time after the overheating scandal of Snapdragon 810 SoC. Now all eyes on the Snapdragon 820, especially since it features Qualcomm's own Kryo cores.
About three versions of Snapdragon 820 went through benchmark tests, TechGrapple reports. The first one showed up on Geekbench back in July, with multi-core score of 1942 and single-core score of 714. As we can see, these scores don't show a high-end chipset because the Kryo Cores were running at 1.4 GHz that is the half of the maximum clocked speed of 3.5 GHz. Therefore, Snapdragon 820 in another test showed improvements with single-core score of 1732 and multi-core score of 4970. And recently, there was a test for the third version of Snapdragon 820 chipset which showed incredible score of 2032 in single-core and 5910 in multi-core test. Based on this test, Snapdragon 820 beats the Exynos 7420 in single-core and Apple A9 in multi-core test.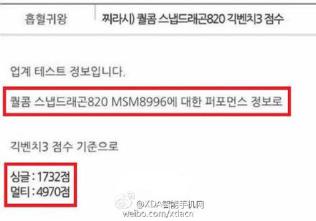 Snapdragon 820 will face the competition of Huawei's Kirin 950 SoC which last month scored 6096 in multi-core test and MediaTek's deca-core Helio X20 chipset. These high-end chips are expected to be equipped in the upcoming handsets of 2016.
This chipset will be ready for manufacturers starting from December and we'll be able to see the first smartphones with this chip on March 2016. The first device to have Snapdragon 820 will reportedly be Xiaomi Mi 5.