Memory maker SK Hynix announced on April 23 the launch of what it calls the "industry's fastest 8GB graphics DRAM." The company claims that the new memory "operates with an I/O [input-output] data rate of 16Gbps [gigabits per second] per pin, which is the industry's fastest."
The existing record for the fastest graphics DRAM is held by Micron's GDDR5X that powers NVIDIA's recently launched Titan Xp graphics card. It offers a speed of 11.4 Gbps per pin. Although, Micron has also listed GDDR5X memory on its website that operates at 12Gbps per pin.
SK Hynix states that the company has been prepping to mass product the new product for a client that will launch a new top-of-the-shelf graphics cards by early next year. This new graphics card, according to the memory maker, will pack the high-performance GDDR6 DRAMs at their heart.
While SK Hynix obviously didn't disclose who that client is, the folks over at VideoCardz are speculating that the new memory will be powering a forthcoming NVIDIA gaming-focused graphics processor (which we think would make perfect sense). Does that have something to do with the highly anticipated Volta cards?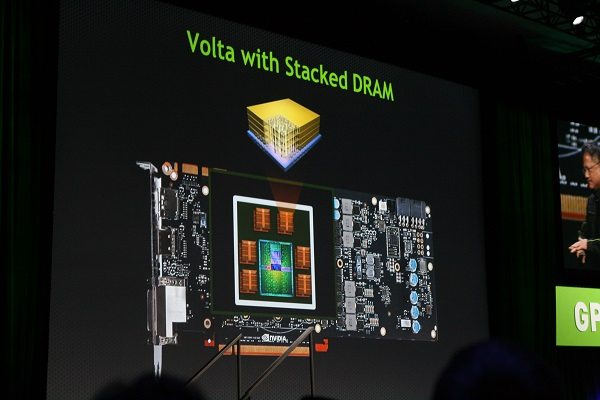 As you know, NVIDIA rolled out a variant of its Pascal-based GP102 powered card in Titan X (Pascal) in July last year. The company later followed up this move with another budget-friendlier variant of GP102 branded as the GeForce GTX 1080 Ti in March 2017.
If we are to consider that the "high-end graphics card" referred to by SK Hynix is actually the Volta-based successor to the GP102, then it makes sense to think that NVIDIA is working on a Titan XP successor expected to launch in early 2018.
Moreover, if you have noticed, NVIDIA usually doesn't get started with a new architectural generation with its most powerful part. That means the statement by SK Hynix could be an indication that the rumors surrounding NVIDIA's alleged plans to roll out first Volta-powered gaming cards (presumably featuring GV104) sometime in the second half of 2017.