Prime Minister Narendra Modi unveiled BHIM (Bharat Interface for Money) app for Android last week for easing the digital transactions, and within seven days, it landed among the Top downloads. As for the feature phone and iPhone users are concerned, they can make use of UPI to send and receive money.
Here's How to send and receive money using UPI
First up, it makes use of the USSD-based mobile banking, which has recently been upgraded with UPI integration. It isn't as intuitive as the BHIM app but serves the purpose well enough for the feature phone and iPhone users.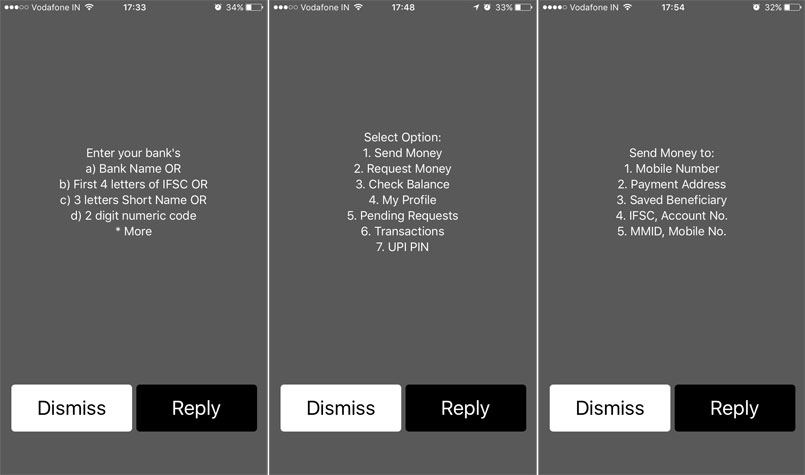 Following is the list of steps one needs to follow in order to make use of new USSD platform.
Step1: Dial *99# on your feature phone or iPhone. In a couple of seconds, you will be greeted with the welcome message asking you to select the desired language – English or Hindi.
Step 2: Once you select the language, you will be asked to link your bank account. The options at your disposal here are, Bank Name, First 4 letters of IFSC, 3 letters Short Name, and 2 digit numeric code. For example, if you have an account with IDBI bank, you can proceed further by entering 'IDB'. This will quickly link your bank account with your mobile number.
Step 3: After that, you need to create a unique UPI PIN before any transactions can be made. On the next screen, you are shown seven options — Send Money, Request Money, Check Balance, My Profile, Pending Requests, Transactions, UPI PIN. Select the last option, and enter the last six digits of your debit card <space> the four digits of your card's expiry date to create the pin. After that, you will be asked to enter 4 digits, something like a security pin code. Once verified, a unique address is created, which by default in the following format — '[email protected]'. But, you can customize it with something like '[email protected]'.
Step 4: Now, you are all set up to send and receive money using UPI. On the home screen, select Send Money, and you will get five more options to select whom you want to send the money to — Mobile number, Payment Address, Saved Beneficiary, IFSC, Account number, MMID, Mobile number. The Payment Address is the one we created above. Enter the recipient's UPI address followed by '@upi', and the system will pull details about the recipient. Now, enter the amount you wish to send followed by entering 4-digit UPI PIN in the next step, and hit send. That's it.
There are certain limits which you should know. First up, the minimum amount that can be transferred via this method is Rs.1, with an upper limit of Rs.10,000. Then, there is a daily limit of Rs. 20,000.
Following is a video tutorial on how to do a transaction through UPI on your feature phone or iPhone. As for the iPhone BHIM app is concerned, it will land in the app store in a couple of days.