Samsung announced their flagships, the Galaxy S7 and the Galaxy S7 Edge at the MWC 2016. The phones are priced at $699 and $799 respectively. But what is surprising is that, even though the phone is not officially on sale, Samsung is issuing updates. This might be a move to bring out a phone that has no flaws whatsoever. Some may also feel that Samsung rushed with the release of the flagship, which is now causing them to make some final changes. The new update has been termed as 'urgent'. So why didn't Samsung look at it before release?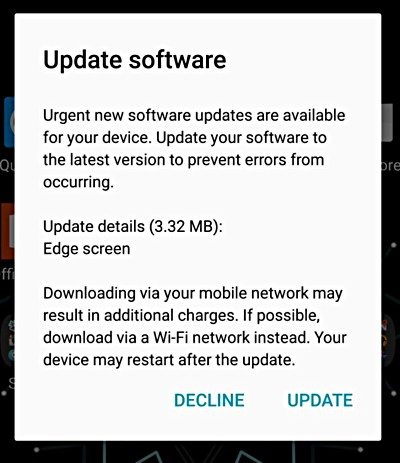 Samsung has looked a bit lazy over the past few months. This can be seen in the Galaxy S7 and Galaxy S7 Edge. Both these phones have some lackluster features and hardware that have not gone down well with the fans. Galaxy S6's fingerprint scanner had a lot of issues, and the newer model doesn't have any major improvements. USB Type C has not been included. Snapdragon 820, a processor that is manufactured by Samsung, is miles ahead of Samsung's own Exynos 8890. The benchmark results clearly indicate the same.
To add to all this mess, a new 'urgent' update has been rolled out. Even though it is termed urgent, there are no indications on what the update actually does. It is just mentioned that it is for the Edge Screen. In the next few days, there might be a report on what the update resolves. The update is really small at just 3.32MB and doesn't look like a major overhaul.