The Internet of Things (IoT) is already making its presence felt today. Wearable tech market is growing at a staggering rate and is expected to be worth a whopping $34 billion by 2020. About 411 million smart wearable devices are likely to be sold in 2020. Right now, wearable industry is dominated by wrist-based devices –  smartwatches and fitness trackers. While other wearable technology is gaining enough momentum, it's predicted that half of all wearable tech sales over the next one year will be from wrist-based devices.
That said, Microsoft and Samsung are fighting a tough battle with their wrist-based devices. Samsung, with its wide portfolio of products continues to offer a wide range of smartwatches and fitness trackers. Microsoft, at least for now, is mostly concentrating on fitness trackers. Activity trackers, according to Microsoft, are an essential category of the future world of wearables. So it's not surprising that Microsoft is concentrating on second generation of the Band, while Samsung is also at the second generation of the Gear Fit. Samsung's Gear Fit is the competitor to Microsoft's Band.
In this post, with inputs from news.softpedia.com, we present a comparison of Band and Gear Fit in areas of Ergonomics, Specs, Features and Battery life.
Ergonomics
When it comes to ergonomics, Samsung Gear Fit is the clear winner. Microsoft did improve the first generation of Band to make it more comfortable on the wrist. But the curved screen of the second generation Band is just not enough to meet ergonomics standards, as wearing it for a longer period of time can not only leave marks on the skin but also lead to pain when worn for a long duration. The band is also fragile, with many users complaining that it breaks after a while. Samsung Gear Fit 2 is ergonomically designed and the simple clasp makes it much easier to wear than the band.
Specs
Microsoft Band 2 isn't as great on battery life as Samsung Galaxy Gear Fit 2. The Band however supports all mobile platforms including Android, iOS and Windows phone. Gear Fit 2 only works on Android. Though both devices sport an AMOLED display, sunlight visibility is poor in both. Band offers 320×128 pixels while Samsung offers a bigger resolution – at 432×216. The Gear Fit 2 has a 200mAh battery and lasts for an average of one and a half days perf charge. First generation of the Band used 100mAh battery and the Band 2 battery life is lower as compared to Gear Fit 2.
Band 2
Gear Fit 2
Sensors
Optical heart rate sensor
3-axis accelerometer/gyro
Gyrometer
GPS
Ambient light sensor
Skin temperature sensor
UV sensor
Capacitive sensor
Galvanic skin response
Microphone
Barometer

Accelerometer
Gyroscope
Heart Rate
GPS
Barometer
Features
The features are best compared in two separate categories – Smartwatch capabilities and Fitness Tracking
Smartwatch Capabilities
Band 2 and Gear Fit 2 show notifications from your mobile phone. Additionally, Band 2 comes integrated with Cortana and also displays weather. The Gear Fit 2 lacks this feature. The Gear Fit 2 doesn't have a microphone for voice detection and hence Band 2 has a light edge over Gear Fit 2 since it provides Cortana features as well.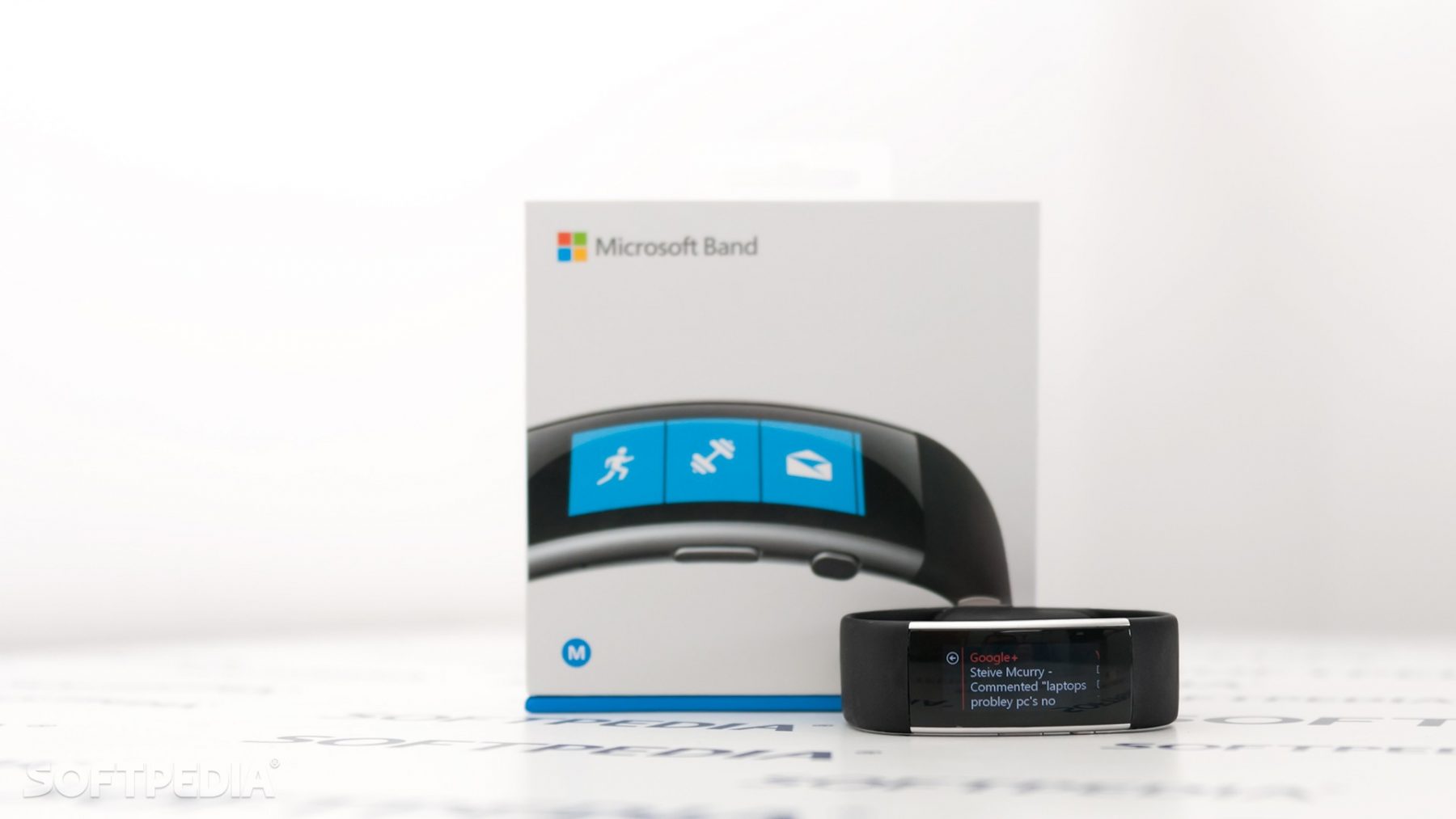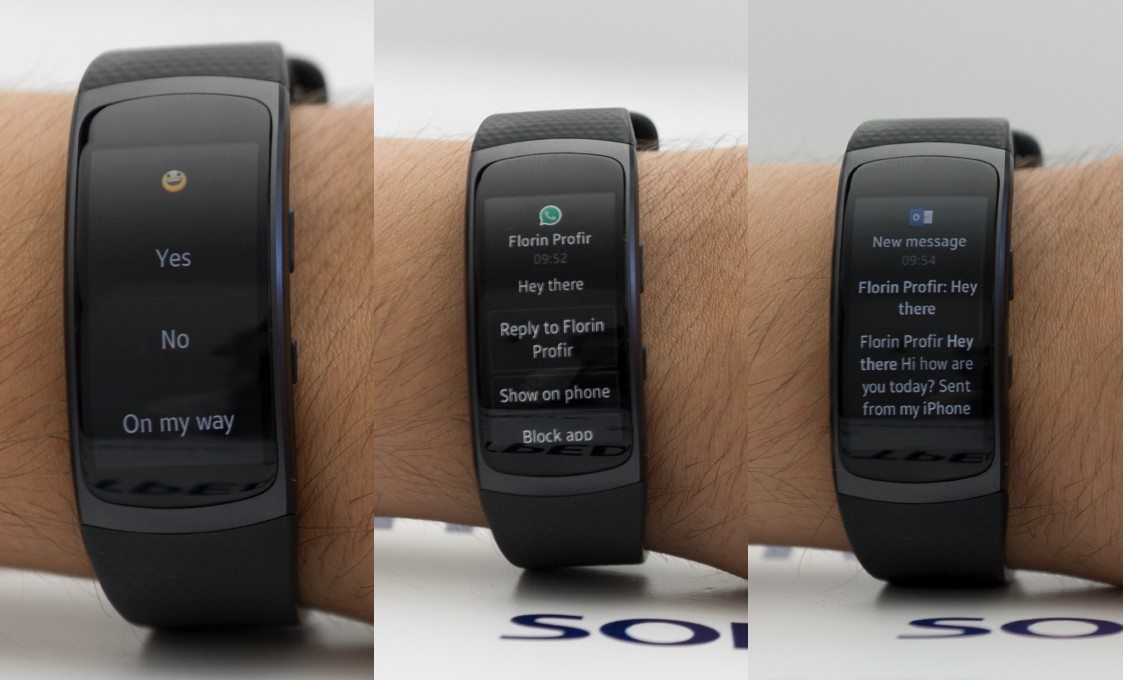 Neither of these can handle calls. They only buzz to let you know that you are receiving a call. The Band 2 works on iOS, Android and of course, Windows Phone. But the Gear Fit 2 only supports Android platform and syncs data with Samsung's health app.
Fitness Tracking
Both devices provide notification reminders to get up and walk if you've been sitting idle for too long. Both models support a variety of activities like walking, running, cycling, squats, weight lifting and much more. The Band 2 also provides guided workouts tailored to meet your requirements, while the Gear Fit 2 displays quick instructions right on the screen when you start your workout session.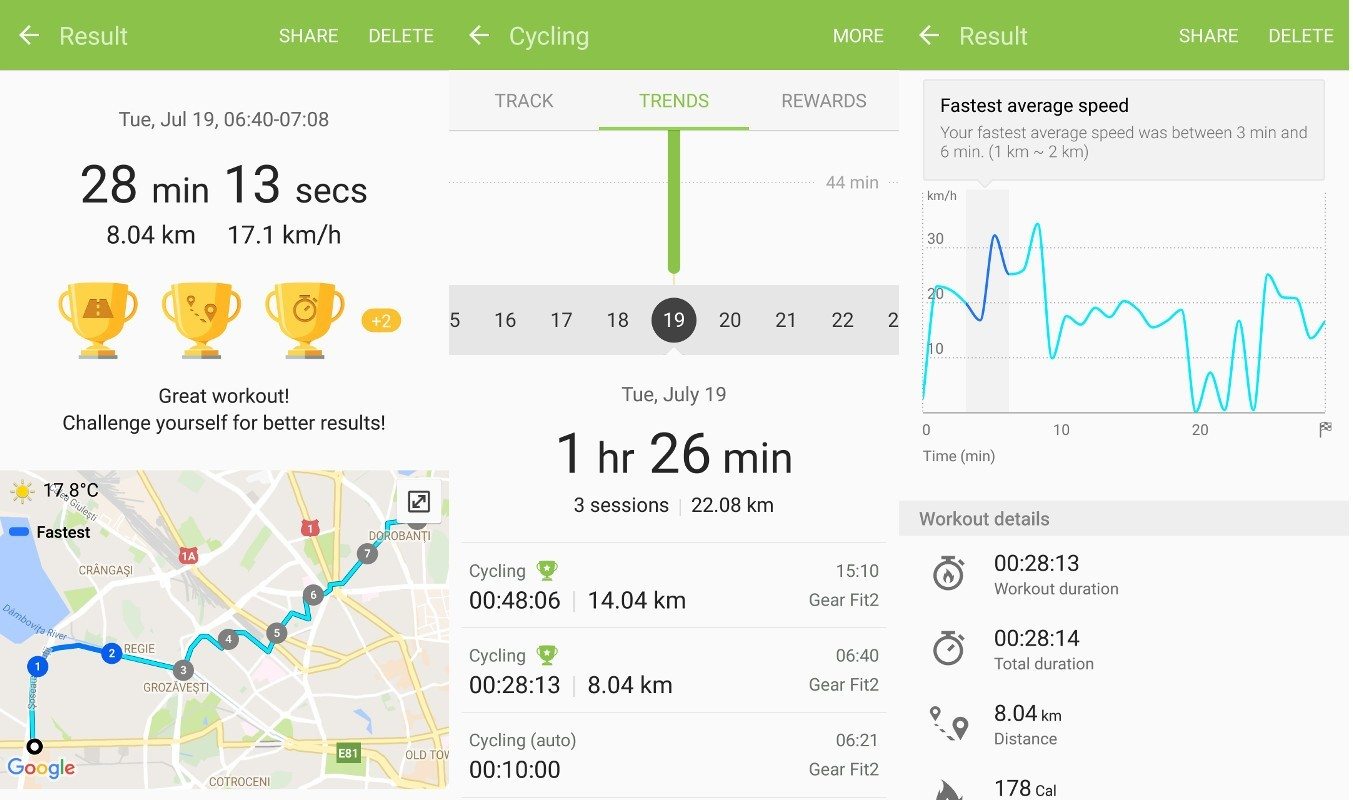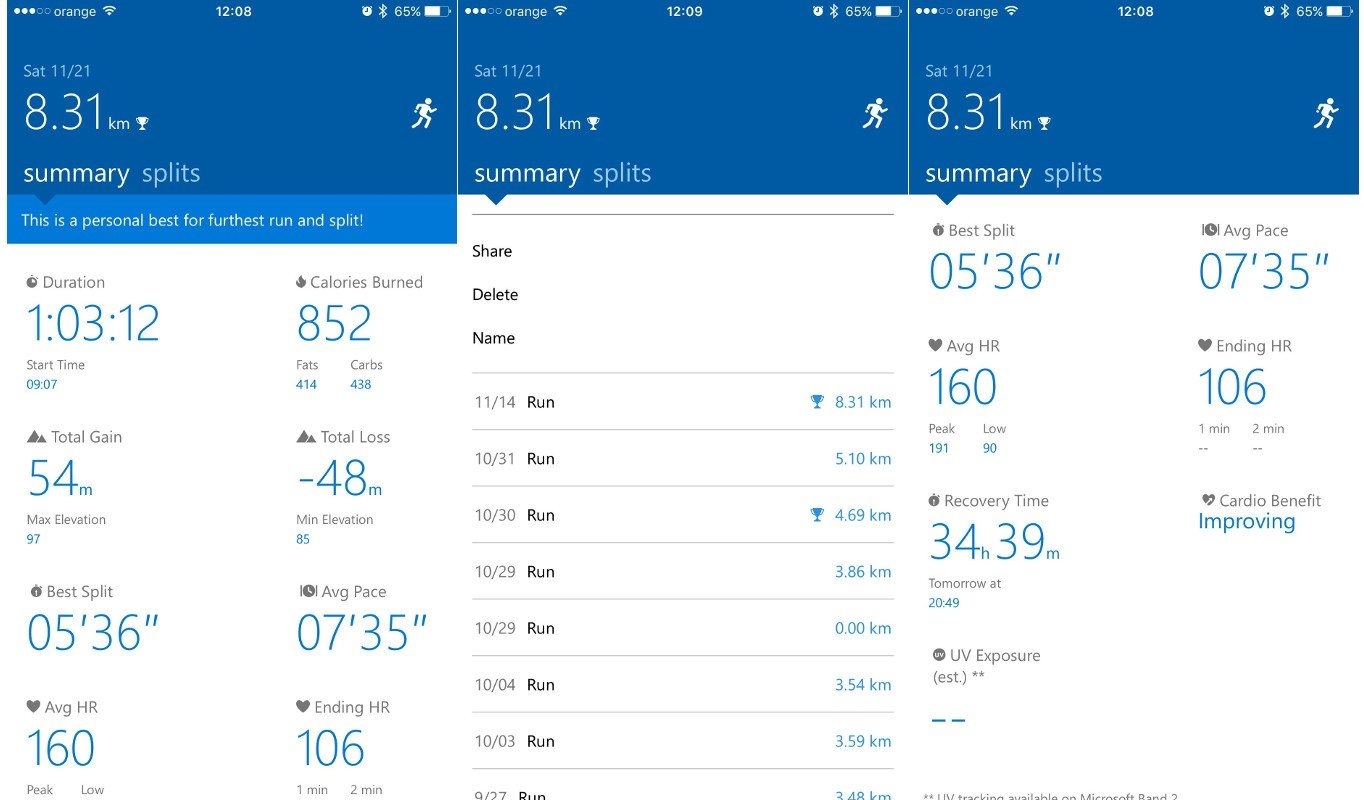 The Band 2 falls short when it comes to GPS tracking, which is essential for activities like Cycling. You have to wait for solid 5 minutes before a stable GPS connection is established. The Gear Fit 2 is pretty fast when it comes to GPS and connects instantly.
Battery Life
Samsung Gear Fit 2 beats the Microsoft Band 2 hands down when it comes to Battery Life. The Band 2 doesn't last longer than 3 to 4 hours on GPS, while the Gear Fit 2 lasts a decent 5 to 6 hours on GPS. The recharge process is similar for both devices with both taking approx. 1 hour with a standard 1.5A charger.
| | Band 2 | Gear Fit 2 |
| --- | --- | --- |
| Battery life without GPS | 28 hours | 36 hours |
| Battery life with GPS | 4 hours | 5 to 6 hours |
| Standby time | 48 hours | 72 hours |
| Recharge time | 1 hour | 1 hour |
To Conclude
Where one device wins, the other loses. When it comes to battery life and some other parameters, Samsung Gear Fit 2 may have an edge over Microsoft Band 2 but it doesn't beat Band 2 in all metrics. Gear Fit 2 is comfortable, while Band 2 is not. But the Band 2 offers more sensors and supports Windows Phone, Android and iOS. The Gear Fit 2 only works on Android.
Overall, the Gear Fit 2 is still recommended. But if you want a device that supports not only Android, then Band 2 may be the right choice.