This news is for you if you love ridiculously large tablets. It's been some time now since the Verizon fans had been waiting for the Samsung Galaxy View. The much-awaited device is finally available now through Verizon.
The Samsung Galaxy View was unveiled last October. It features a massive 18.4-inch FHD screen, a two-way stand and stereo speakers. The device is very much designed for enjoying videos and other media from various media platforms like YouTube, Netflix, Crackle, Twitch, etc.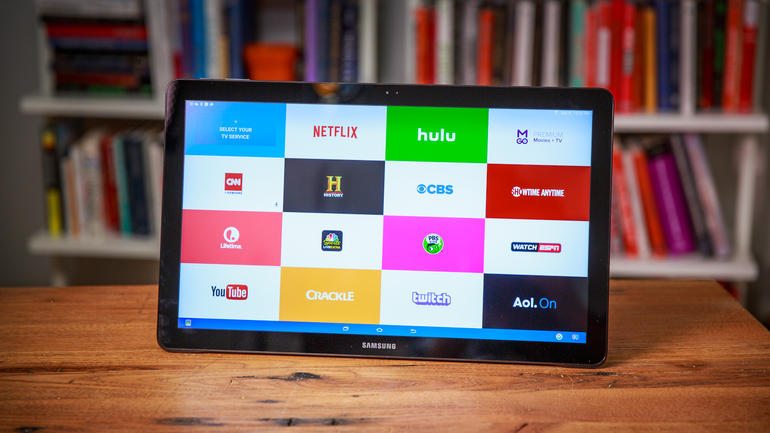 The device weighs 2.25 kg (approx. 5lbs), so it's a bit bulky to carry out everywhere. The device obviously has a SIM slot due to its tie-up with Verizon and you can just watch videos anywhere on the go.
Other carriers like AT&T have already made the device available but the arrival of this tablet on the U.S.A's  biggest carrier is notable.
Verizon is promoting the Samsung Galaxy View as the "perfect mobile multimedia device for young professionals or college students looking to bring an entertainment center to their apartment or dorm room."
But mobility is still a big issue.
Verizon is giving the device on a 24-month contract for $25 per month. It works out the same as the recommended retail price which is $600. Verizon is also selling it upfront for $500 with every new two-year SIM activation. It is worth noting, however, that Amazon has slashed the price of this device by $100 and can be bought for under $500 now without the need of any commitment.
Well, if you think that this tablet is huge, then do have a look at Fuhu tablets unveiled at CES last year which ranges from 20-inches and goes all the way up to 65-inches. Some of these are even available for purchase now. You can purchase the Verizon Samsung Galaxy View here.