The curtain has finally risen, as Samsung has announced the huge Samsung Galaxy View tablet officially in a press release yesterday. The official unveiling of the super-sized 18-inch tab is finally going to be witnessed after many months of waiting and rumors.
Even though Samsung has not disclosed a release date or pricing for the Galaxy View, we already know that the tablet will get a November 6th release in the US. If the report from The Verge is anything to go by, then the tablet will cost $599. This price will get you the Wi-Fi only variant of the tablet with 32GB of internal storage. Rumors say that AT&T might introduce a Wi-Fi+Cellular variant of the device in the US, but nothing has been confirmed yet.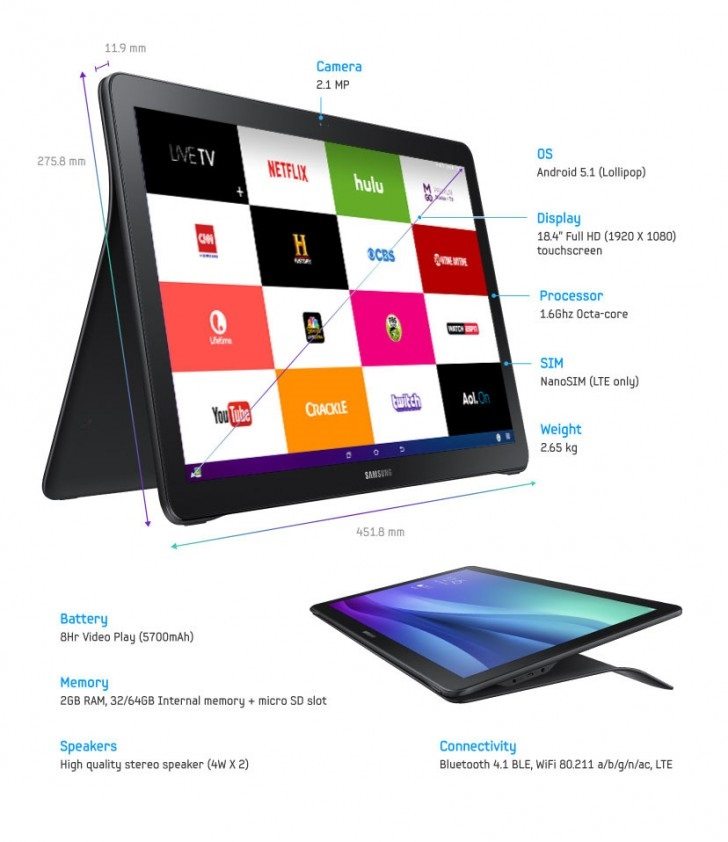 The company has not discussed about the pricing and availability of the Samsung Galaxy View in other regions. In case you have missed the specifications, the tablet gets an 18.4-inch Full HD touchscreen display and will run on Samsung's own Exynos 7580 chipset. There will be an octa-core 1.6 GHz Cortex-A53 CPU inside it, accompanied by 2GB of RAM. A 2MP camera will suffice for video conferencing, while a 4W stereo speaker setup will provide a good entertainment package. The Galaxy View tablet runs on Android 5.1 Lollipop and keeps its lights on with a 5,700 mAh battery.