Almost one and a half years passed since Samsung revealed its Galaxy Tab S2 Series. Until now, aside from numerous rumors and reports, there's no solid info about when the next generation of high-end tablet series might be revealed. Some sources claim Samsung will reveal the Tab S3 generation during CES 2017 (January 5-8 2017), while others talk about a later date, placing the reveal event at MWC 2017 (February 27 – March 2). There are chances Samsung unveils the tablet during summer of 2017, but although there are many rumors, we still don't have a solid reveal date.
Unlike reveal date, we already pretty much know all about hardware specs, with only the design remaining a mystery. So let's see how the upcoming tablet compares to the current Samsung Galaxy Tab S2 generation.
Design, Dimensions
Samsung Galaxy Tab S2 comes in two sizes; the 8.0-inch model measures 198.6 x 134.8 x 5.6 mm, it's extremely thin with the design borrowed from many Samsung smartphones. Thin bezels, a physical Home button accompanied by two capacitive ones under the screen, along with the Samsung logo placed above the display. On the back, you can find the main camera lens placed on the upper middle, along with Samsung logo under it. The second version, the one packing 9.7-inch screen measures 237.3 x 169 x 5.6 mm and is, aside from a large screen, identical to the 8-inch version.
As for the Samsung Galaxy Tab S3, we can say that Samsung won't change the design much. Maybe we'll see thinner bezels, differently placed main camera and some other small changes. The size should also be very similar to the size of the two Galaxy Tab S2 models. Leaked pictures show a tablet that's very similar to the Galaxy Tab S2.
Hardware, Display
The Galaxy Tab S2 series packs hardware that is still pretty capable, no matter the tablets got released more than a year ago. The main engine is the Exynos 5433 (4×1.9 GHz & 4×1.3 GHz, along with Mali-T760 MP6 GPU) chipset that's still pretty powerful. A couple of versions of the tablet (T719N for the 8-inch model and T813N and T819N of the 9.7-inch model) are powered by Snapdragon 652 (4×1.8 GHz Cortex-A72 & 4×1.4 GHz Cortex-A53, with Adreno 510 GPU) chipset, a solution that can match Snapdragon 810. The device packs 3 GB of RAM along with a choice between 32GB and 65 GB of internal storage (expandable via microSD card slot).
As for the Samsung Galaxy Tab S3, the device might come powered by Snapdragon 652 (all versions, not just a couple of them) with Samsung ditching the Exynos solution. If Samsung decides to unveil the tablet during the second half of 2017, the Galaxy Tab S3 series might be powered by next-generation chipsets from Qualcomm, replacing the Snapdragon 652. The Samsung Galaxy Tab S3 series should pack either 3 GB or maybe even 4 GB of RAM, while the internal storage should keep the same size (32/64 GB). Leaked Galaxy Tab S3 benchmarks show that the device can score 1312 points in single-core GeekBench 3 benchmark; in the multi-core benchmark, it goes up to 4275 points.
As for the display, it is available in two sizes on the Galaxy Tab S2 series. Both 8-inch and 9.7-inch models have a 4:3 screen ratio, and a resolution of 1536 x 2048 pixels (320 ppi pixel density on the 8-inch model, 264 ppi pixel density on the 9.7-inch model). Both devices pack Super AMOLED display, offering rich colors and deep blacks.
As for the Galaxy Tab S3 tablet generation, it should also come in two sizes (8-inches and 9.7-inches) and pack the same resolution as the Samsung Galaxy Tab S2 (1536 x 2048 pixels). Since the resolution features pretty high sharpness, even on the 9.7-inch model, this shouldn't be surprising. Also, Super AMOLED displays are excellent, so Samsung should keep the same screen type featured on the Galaxy Tab S2 devices.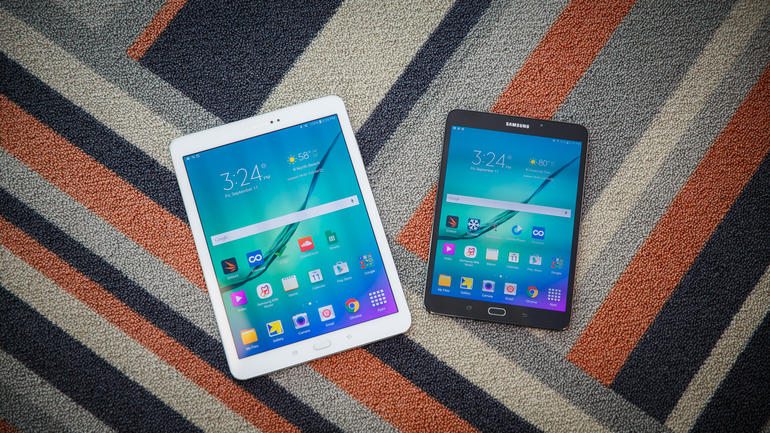 Camera
Cameras aren't really much used on tablets, but the Galaxy Tab S2 devices pack a pretty solid main camera (for a tablet device); it has 8 MP, supports autofocus and is able to record [email protected] videos. Selfie (or better to say video chat) snapper has 2.1 MP. The Samsung Galaxy Tab S3 devices should keep the same camera specs, according to reports.
Battery, Software
The 8-inch Galaxy Tab S2 version packs a 4,000 mAh battery, while the larger one packs a massive 5870 mAh. The Galaxy Tab S3 series should keep the same battery capacity.
As for the software, both Samsung Galaxy Tab S2 devices come with Android Lollipop, upgradable to Android Marshmallow. Since it still isn't revealed, it is logical to assume the Samsung Galaxy Tab S3 series will run Android Nougat.
Both Galaxy Tab S2 devices pack a fingerprint sensor so we should see it featured on the Galaxy Tab S3. Also, the upcoming tablet generation might pack an USB Type-C connector.
Conclusion
The tablet market is seeing a drop in sales quarter after quarter so it isn't surprising Samsung still haven't published the Galaxy Tab S3 series. Also, weak sales mean that the Tab S3 generation won't come with any major novelty, other than a new OS version, a slightly more powerful processor, and maybe a bit updated design. But, maybe Samsung has some tricks up its sleeve, and plan to equip the upcoming tablets with new chipsets from Qualcomm, which will be great. But for now, at least based on reports, don't expect too many upgrades.