Samsung Galaxy Tab S3 that was expected to get announced at IFA 2016 is going to be unveiled on Feb. 26. A user manual of the tablet from the official Samsung site has surfaced to reveal some of its diagrams and features.
As previous rumors have stated that the tablet will be coming in two variants. The Galaxy Tab S3 with model number SM-T825 will be a Wi-Fi only edition whereas the other variant with model number SM-T825Y would carry support for LTE and Wi-Fi.
According to the information available on user manual of Samsung Galaxy Tab S3. The LTE variant would support nano-sized SIM card that can be placed on a SIM card/memory card tray found on the right side of the device.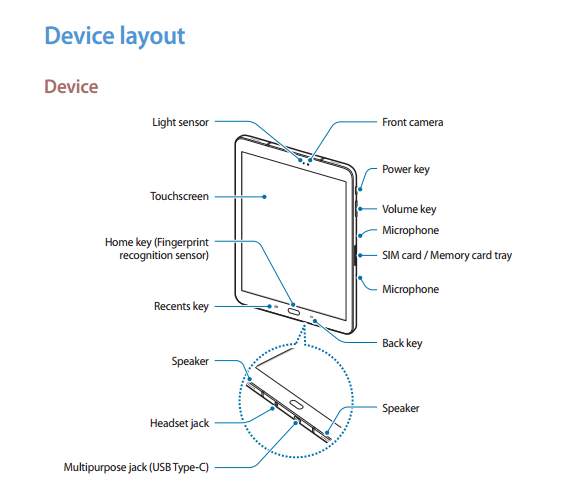 The right edge also features the power key, volume controllers, and microphone. The bottom bezel will feature external speakers, a USB Type-C port along with the headphone jack. The physical Home button is expected to house a fingerprint scanner.
The Galaxy Tab S3 will be featuring a 9.6-inch display that would be carrying support for 2,048 x 1,536 pixels along with an aspect ratio of 4:3. It is heavily pegged to be driven by Snapdragon 820 chipset and 4 GB of RAM. The tablet is expected to be available in storage editions of 32 GB and 128 GB.
The tablet is speculated to come with a LED enabled 12-megapixel rear camera and 5-megapixel frontal shooter. Rumors have stated that it would be packed with a 5,780 mAh battery. The tablet will arrive preloaded with Android 7.0 Nougat OS.
The information of the touchscreen on the tablet suggest that user can use it tablet with fingers as well as S-Pen. This confirms that the tablet would be supporting the stylus that has been only available on Galaxy Note phablets till now. Since there is no S-Pen stylus compartment on the device, it is expected to be sold separately as an optional accessory.
The user manual has a dedicated page for S-Pen. Hovering the stylus on the screen will give access to Air command for various functions like creating notes, smart select, screen write and more. Another accessory that would be available separately is the keyboard that can be attached to the keyboard dock present on the left edge of the device.