If you have used Galaxy TabPro S, you must have noticed the neat unlock feature available through the Samsung Flow app. In April, all eligible Galaxy smartphones will sport this feature and allow users to unlock any Windows 10 PC.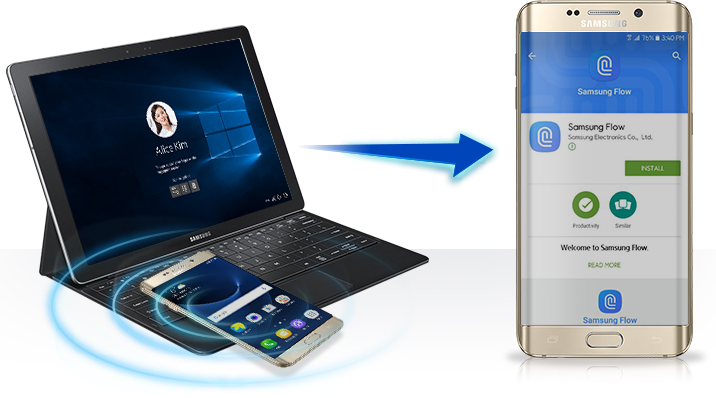 What is Samsung Flow
For those who don't know, Samsung Flow is a cool app to unlock your PC by tapping your unlocked Galaxy smartphone and scanning your fingerprint. Users can easily enable their mobile hotspot to keep their PC connected, and check and reply directly to the phone's notifications. Additionally, one can transfer content and activity between different devices (this feature isn't supported by all devices).
To use the service, one must have at least one fingerprint registered on his/her Galaxy phone. The app was earlier an exclusive for Galaxy TabPro S, but starting April, all Galaxy devices can enjoy the service. It first appeared in May 2015 as Samsung's answer to Apple's Continuity concept.
Microsoft is scheduled to release the next major update, the Windows 10 Creators update, in April, and thereafter, all Windows 10 PCs will be supported. The same was reported by Samsung on the Google Play page of Samsung Flow.
System Requirements for Samsung Flow
PC: Windows 10, Bluetooth 4.1 enabled PCs
Smartphone: Android OS Marshmallow (6.0) or newer, touch type, fingerprint sensor-enabled, Bluetooth pairing between devices, NFC function should be turned on, a fingerprint should be registered.
The eligible smartphones listed on the app page are Galaxy S6, Galaxy S6 edge, Galaxy S6 edge+, Galaxy Note 5, Galaxy S7, Galaxy S7 edge, and the Galaxy A5 and Galaxy A7 models from 2016. The list will also include Samsung Galaxy S8 and S8 Plus upon launch.
Samsung hasn't announced any specific release date for the expansion of Samsung Flow beyond the Galaxy TabPro S, but we should have more details soon on the subject.
Check Also: Windows was unable to complete the format