The Samsung Galaxy S8 is just a couple of months away, with the unveil event scheduled for late March 2017. The phone should bring notable design changes over its predecessor along with a better camera, and beastly hardware in an effort to erase the Galaxy Note 7 fiasco from users' minds.  Let's check out the most important changes the Galaxy S8 will bring.
Design
Design should receive a massive facelift. The phone will be made in glass sandwich like the previous Galaxy S generation, but it will lack a flat-screen variant. Both Galaxy S8 models will feature curved-edge display.
Other design changes include a massive shave off the top and bottom bezels, making the screen even more pronounced as well as introducing a huge increase in the screen-to-body ratio. Physical Home button disappeared, and the fingerprint scanner is allegedly moved to the back of the device.
The Samsung Galaxy S8 will also bring an iris scanner as well as a new side-mounted hardware button that launches Bixby – a new virtual assistant from Samsung.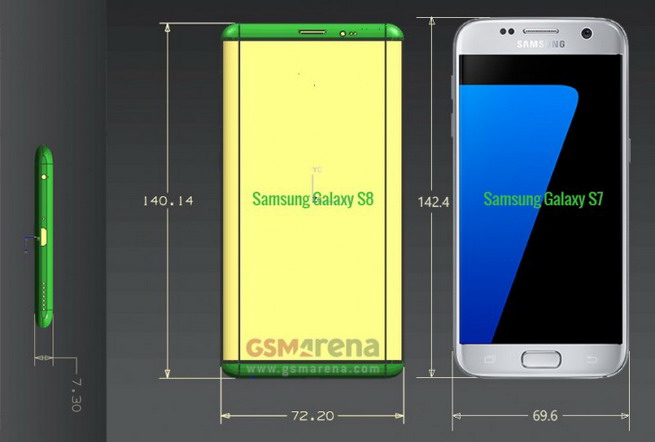 Screen
The new models will feature massive screens. The regular model will come with a 5.8-inch screen, but it will more or less keep dimensions the Galaxy S7 has. The Plus version will come with a monstrous 6.2-inch screen, but it will keep dimensions of the Galaxy S7 Edge.
The resolution will stay QHD, with Super AMOLED matrix. The last notable change in the screen is the new aspect ration of 18.5:9 instead of the 16:9 ratio of the current flagships.
Hardware, Camera
As for the hardware, it is expected to see Snapdragon 835 and Exynos 8895 chipsets under the hood of the upcoming flagship device. The new processors will offer a massive performance boost.
The Galaxy S8 will sport either 6 GB or 4 GB of RAM (the exact amount is unknown at the moment) and will expand internal storage size to 64 GB for the base model, with the inclusion of a microSD card slot.
The camera should stay more or less the same (12 MP, f/1.7); not surprising since the camera featured on the Galaxy S7/S7 Edge is of supreme quality.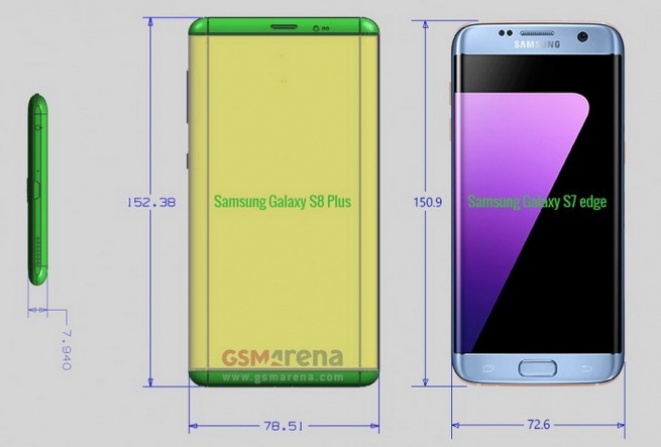 Pricing, Availability
The price should go up, with the base model priced at around $900. The Galaxy S8 Plus should be priced at $1,000. The two Galaxy S8 models should be revealed during Samsung's event scheduled for March 29 and should hit the stores during April 2017.