Samsung Galaxy S8 is in the news these days for all the speculations and rumors surrounding the phone. From what we know so far, the Galaxy S8 is likely to sport a 2K resolution display with an impressive screen-to-body ratio of about 90%. The Galaxy S8 is expected to feature a whopping 8GB RAM. And the most notable feature of Galaxy S8 will be Samsung's new AI assistant – Bixby – will be first introduced on the Galaxy S8. Bixby is significantly more advanced and more contextually aware than S Voice. Samsung plans to do away with S Voice altogether and instead replace it with Bixby on Samsung Galaxy S devices. The new AI assistant will be tightly integrated into Samsung's ecosystem.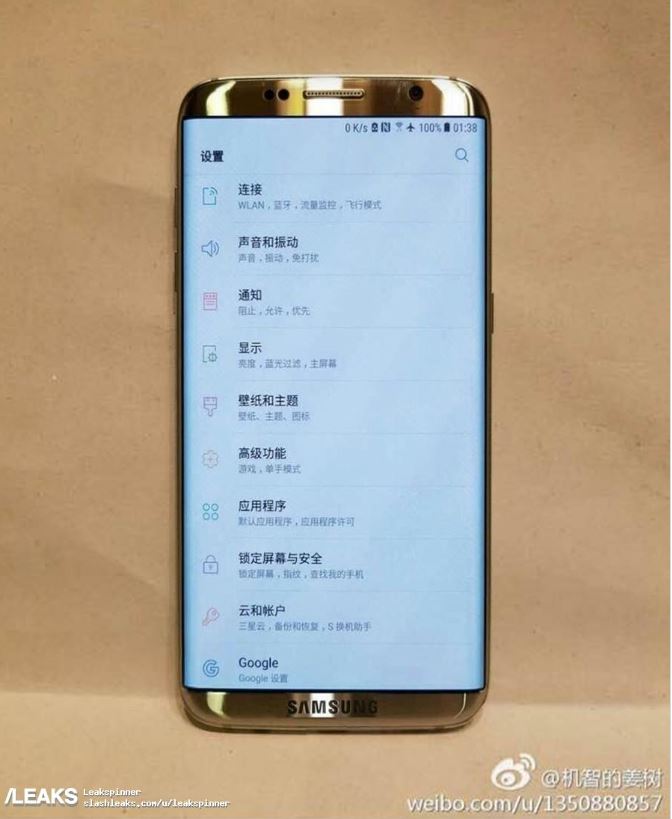 Samsung Galaxy S8's First Alleged Photo Surfaces
The first alleged photo of the Samsung Galaxy S8 reveals many details. From an initial glance, the curved screen is evident. The absence of home button is also obvious. The bezel looks to be almost next to nil. But the image may or may not be authentic. There are a few things that make the image look like it's photoshopped. For one, the icons in the status bar and font appear stretched. They don't look like the one in the S7 Nougat beta. And then there are some out-of-the-place artifacts in the top left corner and right corners of the screen.
Others point out at the missing on-screen keys. Could the new Grace UX be hiding them or are the keys just not lit up? As you are aware, the present Samsung phones do come with a feature which allows capacitive keys to remain hidden when the screen is lit. But then the Chinese characters look to be right. Even if this is a photoshop, it does succeed in getting most of the details right. Considering that Samsung will not change the design radically, this is pretty much what Galaxy S8 will look like.