The first benchmarks of Samsung's forthcoming flagship Galaxy S8 Plus surfaced online earlier last week. The scores highlighted a mixed performance by the handset. While it was outperformed by the Galaxy S7 Plus in single core tests, the handset recovered in the multi-core tests by delivering the expected outcome.
Today, we have come across with more benchmark scores, but this time for the Samsung Galaxy S8.
Samsung Galaxy S8 Geekbench scores
Word around the water cooler has been that Samsung intends to deliver a real performance powerhouse in the Galaxy S8. If all the speculations going around turn up as the reality, then the handset will come equipped with a next-generation processor built using 10nm FinFET, as well as 6GB of RAM.
Just like the Galaxy S8+, the S8 benchmark leak also surfaced on GeekBench. The tested device had a Qualcomm Snapdragon 835, aided by 4GB of RAM at its core. As you can see in the scores below, the S8 seamlessly outperforms its predecessor, the Galaxy S7, in both single, as well as multi-core results.
Compared to the Galaxy S7's aggregate of 1800 points in single and 5,200 points in multi-core tests, the S8 scored 1916 and 6011 respectively.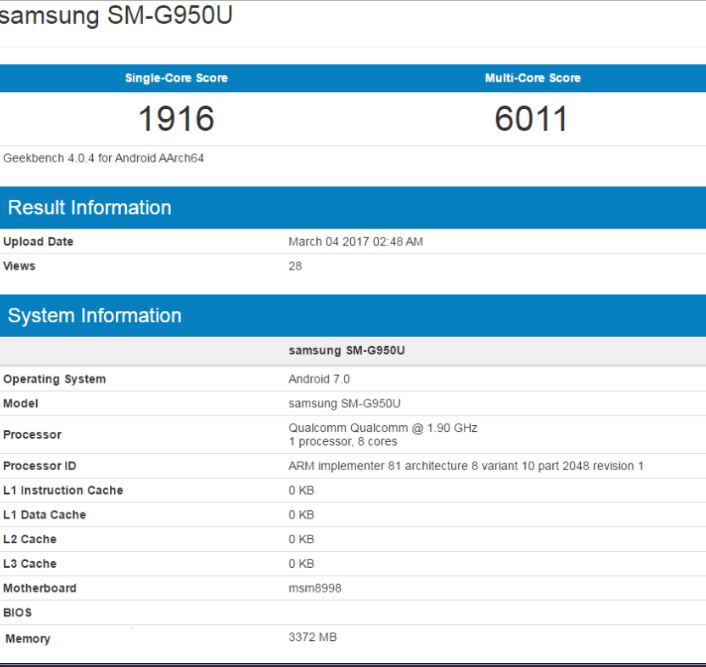 The SD 835 at the heart of the tested Galaxy S8 was clocked at 1.9 GHz. Note that 2017 Qualcomm chips are capable of offering frequencies up to 3.0 GHz, which makes us wonder why these leaked tests included an under-clocked processor.
One explanation could be that Samsung was only assessing the SD 835 and the Galaxy S8 for any possible last minute issues instead of trying to gauge the pair's optimal performance. Other key specs spotted on the device included a giant screen, a rear fingerprint sensor, a revamped build, as well a buttonless appearance on the front.