The Samsung Galaxy S8 is still almost three quarters away from its rumored launch, but the leaks and rumors are already pouring in. In a previous leak, we had told you that the Galaxy S8 would be getting a 2.5K display. As it turns out, Samsung may have another plan in mind. The company demonstrated its next-gen smartphone display last week in San Francisco, and some important details have come out regarding the screen.
According to a new report from China, the Galaxy S8 will come with a 4K display with 3840×2160 resolution. The screen will be 5.5 inches in size and will carry a mind-blowing pixel density of 806ppi! As you can see in the image above, it has been mentioned that the screen is "High Resolution for VR", meaning the S8's 4K display is being especially designed for amazing virtual reality experience with probably the next-gen Gear VR.
In the second image below, you can see three displays placed in comparison to each other. The third from left has been named BioBlue, and this is the screen that Samsung is rumored to be using in the Galaxy S8. It is being said that the display will take some time to be fully production-ready, which is why we probably won't see the 4K BioBlue display in the upcoming Galaxy Note 7.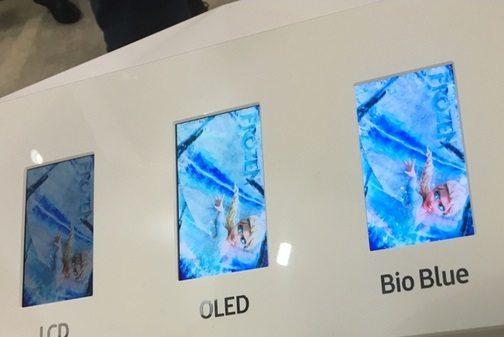 Samsung's latest BioBlue display technology reduces the amount of blue light to 6% from AMOLED's 32%, thus allowing users to watch content on the screen for a longer time without straining their eyes. Also, the main reason for including a 4K display instead of 2.5K is that 4K resolution will provide crisper and more amazing VR experience.