'Water-resistant' and 'Water-Proof' are very often confused with each other. Waterproof means that your phone is completely immune from any water damage but water-resistant simply means that your phone can take up some water damage but eventually, it will get impaired if subjected to heavy water penetration. Off-late many questions have arisen whether Samsung Galaxy S7 is waterproof or not. Well, the answer is negative. Samsung Galaxy S7 is just water resistant as is indicated by its IP68 certification but not water-proof.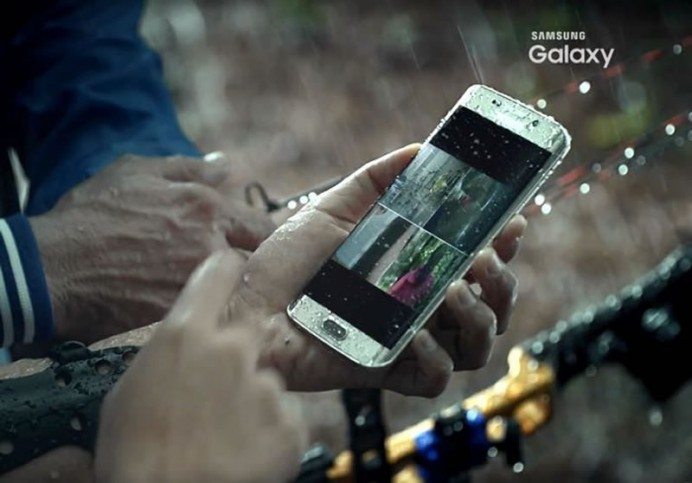 The promo videos of Galaxy S7 may be a bit misleading but the truth is that it is not totally immune from water damage as has been clearly shown in a YouTube video by JerryRigEverything. In the video, he has shown step-by-step how Galaxy S7 water resistant features operate. You can watch the video here:
There are water damage indicators in the phone which tell whether the phone has been in water contact or not. One of these indicators is placed at the bottom of the phone near the SIM card tray. It is clearly visible if you take out your SIM card. It stays white in colour generally but it turns into a pinkish colour once it comes in contact with moisture, steam, sweat, etc. Another indicator albeit smaller is placed above the loudspeaker.
The edges of the phones are joined with a very strong adhesive which keeps water from entering the body. Also, screws further ensure that chassis is totally secure from the entrance of moisture. The ports are covered with a rubber seal around the edge which ensures that water won't enter the ports up to a depth of 1.5 meters of water. However, if the pressure is more, the water will enter the ports. The speakers are also made water-resistant by placing a small screen behind the grills. It allows sound to pass through but stops water from entering the device.
We guess that this will solve all your queries about whether the S7 is waterproof or water-resistant. Stay tuned for more news and info and do leave your comments below.