The recently leaked model numbers of the Samsung Galaxy S7 revealed that the phone will be sporting Qualcomm's flagship Snapdragon 820 chipset in China and the U.S, while other regions would get the device with the Exynos 8890 under the hood.
As reported by TechGrapple, a new Weibo post from a Chinese leakster suggests that the Snapdragon 820 SoC will be optimised for the Samsung Galaxy S7 for lower power consumption and better thermal management. The enhanced SD820 will be running at a higher frequency than the regular variant, which is why Samsung will add a heat pipe in the phone to keep a check on the temperature.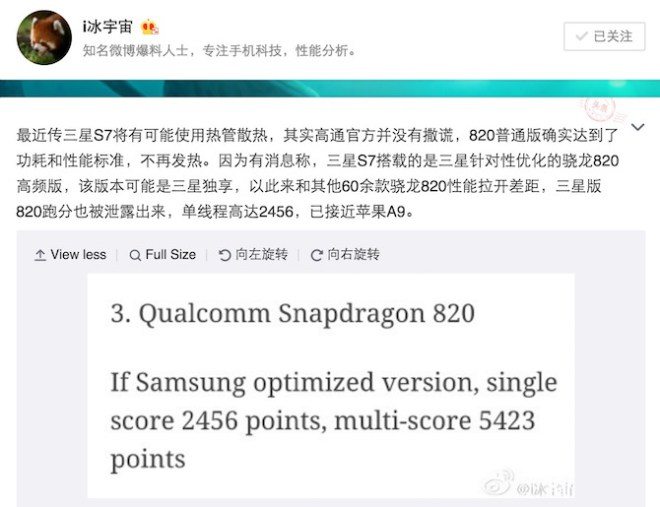 The leak also states that a new Geekbench test was performed on the Galaxy S7 featuring Snapdragon 820. As expected, the single-core test was completed with an impressive 2456 points, while the phone logged a tremendous 5423 points in the multi-core test. Though we can't prove the authenticity of this leak and would suggest you to take this news with a pinch of salt, we know that the Chinese and U.S buyers won't complain of any performance issues with the Galaxy S7 if this leak is true.
The Samsung Galaxy S7 is rumored to launch on 21st February, and the date is eagerly awaited by us and Galaxy fans alike.