Samsung lived up to its promise since the company started shipping Android Nougat update for its Galaxy S7 and Galaxy S7 Edge devices. If you remember, Korean company promised to start shipping the update on January 17, and users from around the world started receiving it.
As reported on XDA Developers website, users from the UK, Belgium, and Romania started receiving the update. Another market that started receiving the update is China, despite the recent replacement of the update with a new beta build. Other territories, including the US, should start getting the update soon.
Samsung promised to start shipping the update for all Galaxy S7 and Galaxy S7 Edge devices that didn't participate in the beta program, and the company delivered the promise. The reason for why the update didn't start shipping in the US is the fact that Samsung announced January 17 as the shipping date for Nougat update for European markets, so the fact the US and other large world markets (except the Chinese market) haven't started receiving the update is expected.
The update weighs in at around 1.2 GB and brings many new Android Nougat features such as better battery optimization, multitasking features, various optimizations, a new VR platform, transparent app folders, blue light filter, and the option to adjust the screen resolution, among others.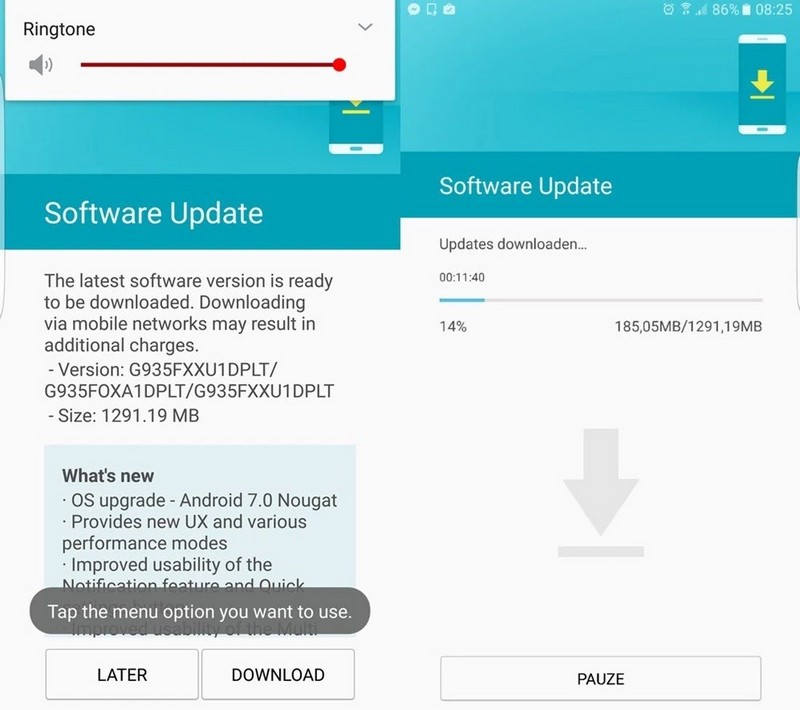 Although there were some speculations about Samsung skipping the Nougat 7.0 build and offering Galaxy S7 owners the latest Nougat 7.1.1 build, reports from users state that the update is based on Nougat 7.0 version.