Samsung Galaxy Note 7 is just around the block, the phone should arrive at the beginning of September; let's take a look how it compares to the (at the moment) strongest offer from Samsung, the Galaxy S7 (Edge).
Design, Dimensions
Both (or better to say all three) models come with a metal body, with the S7 having a choice between normal and dual curved screen. All models sport a similar design, with the home button on the center and front-facing camera, sensors, and speaker at the top.
The Galaxy S7 is the smallest of the bunch, sporting dimensions of 142.4 x 69.6 x 7.9 mm, so if looking for a compact phone with large (5.1-inch) screen the regular Galaxy S7 is for you. The S7 Edge features a 5.5-inch screen making it bigger (150.9 mm), wider (72.6 mm) but at the same time a bit thinner (7.7 mm) than the S7. The Galaxy Note 7 has the biggest, 5.7-inches screen and with dimension (153.5 x 73.9 x 7.9 mm) while large, make it a pretty compact device if we take into account its display size.
Hardware
Samsung Galaxy S7 and S7 Edge have the same entrails; Snapdragon 820 (U.S version) or Exynos 8890 Octa (International version) are the top of the line SoCs at the moment, offering unrivaled power. Coupled with 4 gigs of RAM and a choice between 32GB or 64GB of (expandable) internal storage both phones are proper powerhouses, giving you the best user experience on the market. The Galaxy Note 7 should come with Exynos 8890 Octa (4×2.3 GHz Mongoose & 4×1.6 GHz Cortex-A53), the same chipset used in the S7/S7 Edge, so it's safe to say that Note 7 will also offer unmatched performance. The Note 7 should come with 4 GB of RAM and 64 GB of expandable storage.
The Galaxy S7 has the smallest screen, with its 5.1-inch 1440p display; S7 Edge has a beautiful dual curved 5.5-inch screen with 1440p resolution. The Note 7 sports a 5.7-inches dual curved (no classic, flat display option) screen with 1440p resolution which is more than enough, even if a display is big as this (518 ppi pixel density). All models have Samsung's Super AMOLED screen matrix.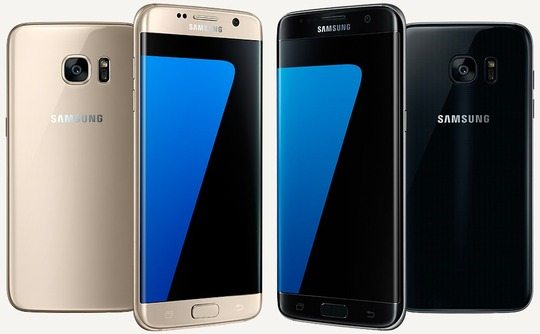 Camera
All three models use the same camera sensor (12 MP, f/1.7) capable of recording 4K resolution video @30fps, or 1080p video @60fps. Although 12MP might look a bit low a resolution, it's worth noting that S7/S7 Edge have the best camera in the whole Android smartphone world. The front-facing camera is also the same on all models (5 MP, f/1.7).
Battery, Additional Features
The Galaxy S7 comes with a solid 3000 mAh battery, while the S7 edge ships with a bigger, 3600 mAh battery (because of a bigger screen). The Galaxy Note 7 comes with a 3500 mAh battery; while it is smaller than the one packed in S7 Edge, it should provide you with a full day's worth of power.
All models are IP68 certified (dust proof and water resistant over 1.5 meters and 30 minutes), have a fingerprint scanner (as a part of the home button), but only with Note 7, you'll get S Pen stylus (after all it is a Galaxy Note device).
Price
The Samsung Galaxy S7 can be yours for Rs. 48,400 ($725), while the S7 Edge is a bit more expensive with a price tag of Rs. 51,999 ($780). The Galaxy Note 7 should arrive with a price tag of around Rs. 60,000 ($900).