The Samsung Galaxy Note Edge, which is about to make its US debut on AT&T and Sprint. In addition to the flat touchscreen surface we've all become accustomed to, the Note Edge has an extra column of screen that wraps around the right edge of the device.
AT&T will have the device online and in select stores on November 7th where you'll be able to buy it on a 2-year contract for $399.99, which is crazy. The NEXT monthly pricing is $39.42 for 18 months or $47.30 for 12 months. The off contract price is $945.99. Sprint will have the phone the following week on the 14th for a more reasonable $35 for 24 months, or $840 total.
Like the traditional Note, the Edge has an S Pen and a rather large screen. It's 5.5-inches with a resolution of 2560×1440+160, with that extra 160 being the width of the wraparound bar on the right. It can display shortcuts, notifications, and news without interrupting what's going on elsewhere on the screen. It that worth the cost? However, it would be interesting to use the new comer in few days.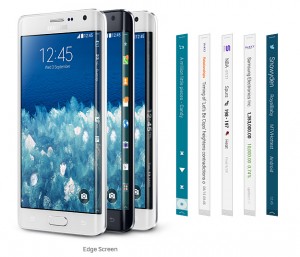 The Note Edge provides users with a new way to access information, engage with their mobile device, and express their personality and tastes. The device's unique curved Edge screen provides quick access to frequently used apps, alerts and device functionality all with the swipe of a thumb, even when the cover is closed. Users can also receive notifications directly on the Edge Screen while watching videos without disturbing their viewing.
It does not ends here, would be interesting to see the Full Specifications of The Samsung Galaxy Note Edge.