Samsung Galaxy Note 5, Samsung Galaxy S6 Edge Plus and Samsung Galaxy A8 have been certified in Singapore, by the country's Infocomm Development Authority. The trio have been listed by the agency, which is charged with supporting innovative technology in the country.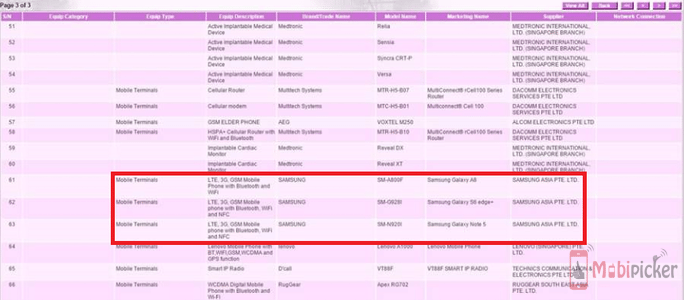 Among the three models, only the Samsung Galaxy A8 has been officially announced by the Korean Manufacturer. Galaxy A8 is by far the slimmest handset produced by Samsung. The phone has a thickness of 5.9 mm and features a 5.7 Super AMOLED display which has a full HD resolution of 1080 x 1920 pixels. The Samsung Galaxy A8 has a 64 bit Snapdragon 615 chip-set with octa-core 1.5 GHz CPU and Adreno 405 GPU, 2 GB of RAM, 16 GB of internal storage along with an option of expandable storage up to 128 GB via micro SD slot. The smart phone comes with front and back camera 5MP & 16 MP respectively, all of this is powered by the strong battery of 3050 mAh capacity. Android 5.1 with TouchWiz is pre-installed.
Rumors are Samsung Galaxy S6 edge Plus would be a 5.7-inch version of the popular Samsung Galaxy S6 edge and the Samsung Galaxy Note 5 is expected to feature high-end configuration. Both models could be feature similar specs and be unveiled somewhere around the middle of next month. Our take away from this, is the Galaxy Note 5 and the rumored Galaxy S6 edge Plus soon would have its wraps taken off. And with a government agency listing the Galaxy S6 edge Plus, the phone looks quite real. But of course, we'd prefer to hear an official statement from Samsung.