If you live in Hungary and own an unlocked Samsung Galaxy Note 4, you are in for a surprise. Owners of the phone (SM-N910F) in the country have received the Android 6.0 Marshmallow update. New features like Doze, Google Now On Tap, etc. are the obvious changes apart from the more deep system-level ones.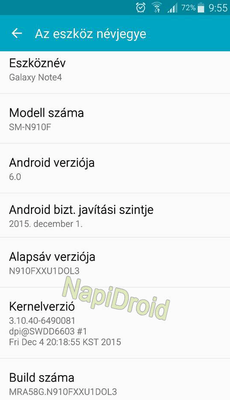 The Android 6.0 update for Galaxy Note 4 (SM-N910F) also adds an Air Command menu along with a new feature to scribble notes in white on a black background. A lot of other small features have been added to the update that make Marshmallow a must-have firmware. The Marshmallow update has been already rolled out in multiple countries for various devices, and the unlocked Galaxy Note 4 in Hungary is one of the earliest devices to get the update.
According to Google's distribution data, just 0.3% of all the active Android phones are running Android Marshmallow. The number will surely rise after the U.S. carrier testing of the new update is finished. Of course, the unlocked Android phones that have been dispatched to different countries are already getting the new update, while the stock Android Nexus phones and Google Play edition devices got the update first.