Cheap mid-range phones are a hit in emerging markets like India and the rest of Asia. That is why companies like Oppo and Xiaomi are getting massive sales due to their mid-range smartphone products. That in mind, Samsung also wants a slice of the pie and in response to ever increasing demands for Android phones, the company is releasing the Galaxy J7 Max sometime next month.
According to Phone Horn, the Samsung Galaxy J7 Max will be released in the second week of June. The mid-range smartphone will sport a MediaTek Helio P20 ARM SoC with eight cores running at 1.6GHz. The flash storage is sized at 32GB while the system memory is at 4GB.
On the display, the 5.7-inch panel will have a resolution of 1920x1080pixels; something that is considerably better than its counterparts. Both cameras will be of a 13-megapixel sensor with the rear camera featuring Smart Glow 2.0. The Samsung Galaxy J7 Max will run on the latest Android Nougat version and will also include the Samsung Pay Mini feature.
It should be noted that Samsung holds the ace card on the Galaxy J7 Max. This will be the first phone to sport a display that is not only bigger, but also better in resolution.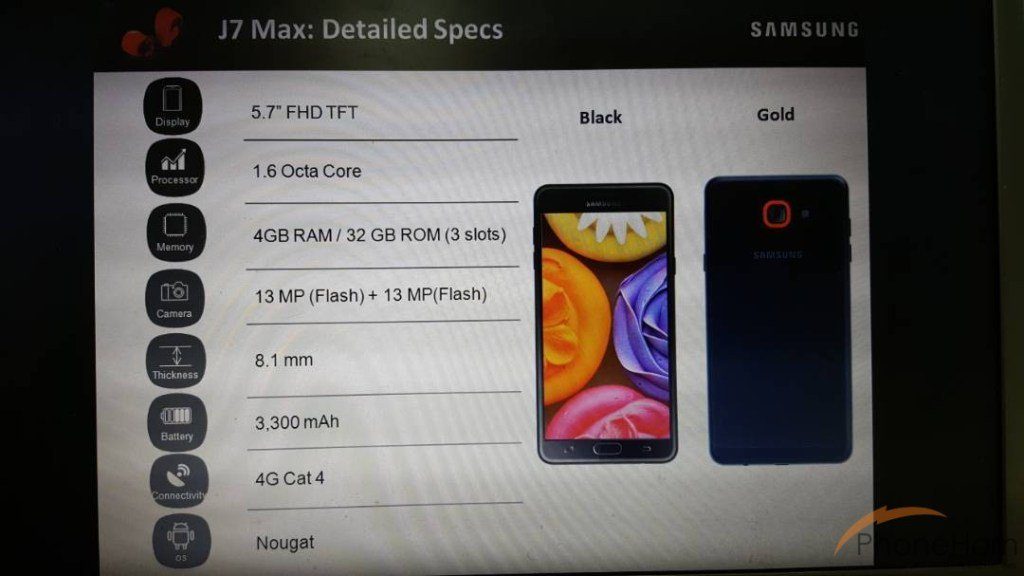 As for the price, Samsung is yet to announce how much the Galaxy J7 Max will cost. However, there are talks that the phone will be priced around INR 20,000. The phone will be available in two different colors: black and gold. Since the Galaxy J7 Max is equipped with a MediaTek chip, this version will be available in India and the rest of Asia only. However, Samsung might release a Snapdragon version of the phone sometime in the future.
Are you excited for the Samsung Galaxy J7 Max? Be sure to let us know in the comments section below.
Check Also: 10 Best Phones Under 20000 [Top Class Specs and Features]