Samsung's C smartphone series is something of an attempt of releasing devices sporting premium components at a price that's not as high as you would pay for their S series. It could be looked as Samsung's response to the recent rise of quality Chinese brands. The C series should be placed above A and J Series. Metal body, high-quality camera, plenty of RAM and a 1080p super AMOLED display are the strongest points of C series. Let's take a look at the two members of this "flagship specs at mid-range price" series, the Galaxy C5 and Galaxy C7.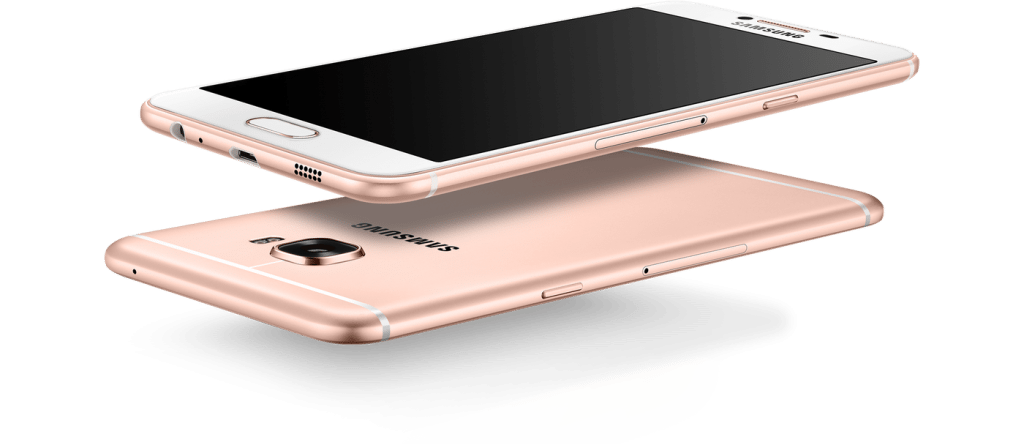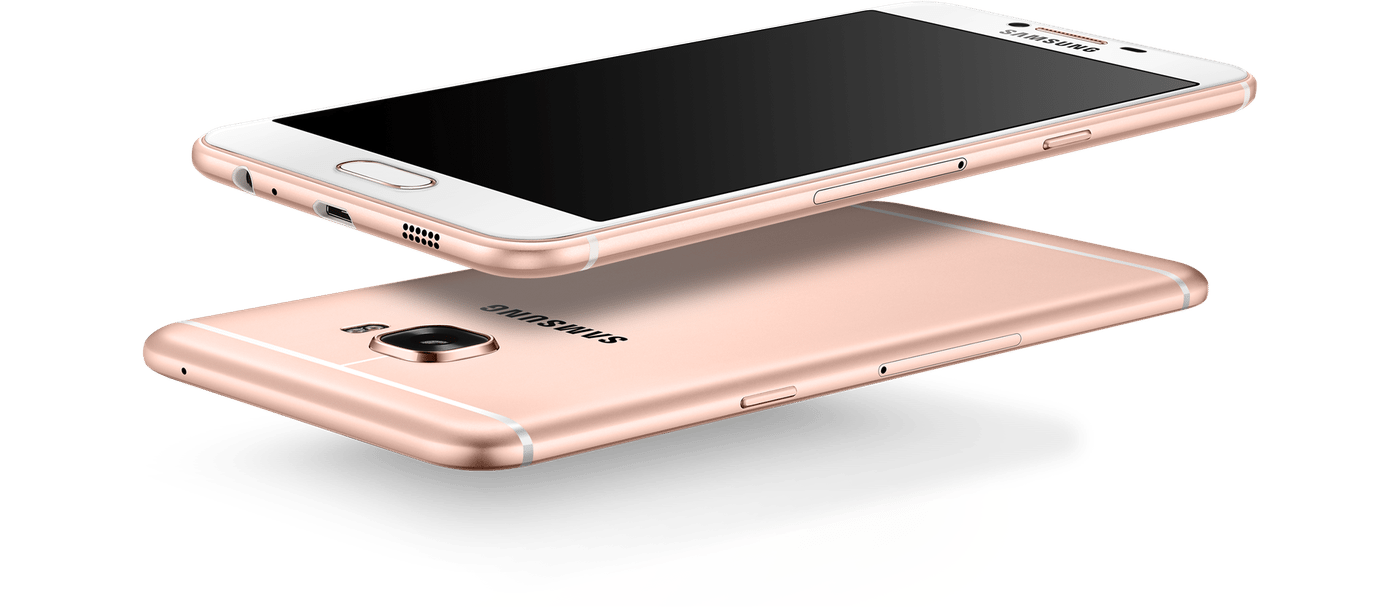 Design, Dimensions
Both models have a full metal body, and on the back have a recognizable design first seen with HTC One M7 (metal design with two plastic lines for antennas placed on the top and bottom).
The Galaxy C5 dimensions are 145.9 x 72 x 6.7 mm, the phone is very thin, and looking at its 5.2-inch display, it is relatively narrow with thin bezels and it's not too big. The only difference we can see on the Galaxy C7 is it's bigger, phablet-like 5.7-inch screen, making the phone both larger (156.6 mm), and wider (77.2). The Galaxy C7 is pretty thin, with just 6.8 mm, almost identical to the Galaxy C5.
On the front, we have a classic Samsung layout with home screen (serving also as a fingerprint scanner) placed in the middle, and front-facing camera, speaker, and sensors placed on the top.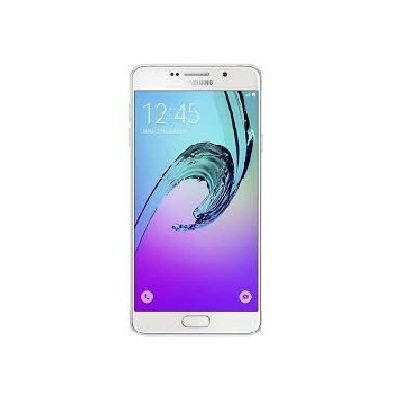 Hardware, Software
Both phones come with 1080p Super AMOLED display, Galaxy C5 has a 5.2-inch screen while Galaxy C7 sports a bigger, 5.7-inch display. The Galaxy C5 uses Snapdragon 617 (Octa-core, 4×1.5 GHz Cortex-A53 & 4×1.2 GHz Cortex-A53, with Adreno 405 GPU). On the other hand, the Galaxy C7 has a bit more powerful Snapdragon 625 (Octa-core 2.0 GHz Cortex-A53 along with Adreno 506). Antutu scores show Snapdragon 625 is more than a bit powerful; Snapdragon 617 scores around 40,000 while 625 can go above 60,000 points.
Both phones come with a massive amount of RAM, 4GB, and a choice between 32GB and 64GB of internal storage. Internal storage can be expanded with an SD card up to 256GB. Both models support Dual-SIM as well but, like in the most cases, if you decide to expand internal storage, a secondary SIM slot has to be used for that.
Both the Galaxy C5 and Galaxy C7 come with Android Marshmallow (v6.0.1) coated with Samsung's TouchWiz UI.
Camera, Battery
Ok, we're starting to repeat ourselves, but camera-wise both phones are identical. Both the Galaxy C5 and Galaxy C7 sport the same 16MP f/1.9 main snapper (with dual-led and autofocus), capable of recording 1080p@30fps video. The front-facing camera measures 8 MP and is capable of recording 1080p video as well.
Battery size is a bit problematic. The Galaxy C5 has a 2600mAh battery; combined with a 5.2-inch screen, it will hardly last for a whole day. On the other hand, the Galaxy C7 has a more powerful, 3300 mAh battery, but also has a bigger 5.7-inch screen, so the same goes as with the C5. But, since phones come with Marshmallow, which has some nice battery saving options, we are sure that both batteries will last through a whole day of use.
Price
The Samsung Galaxy C5 should come with a price of Rs. 22,990 (around $345) for the 32GB version, while the Galaxy C7 should cost Rs. 28990 (around $435). And while the price may seem like a fair one, considering nice screen, lots of RAM, and a full metal body, there are many other models offering similar specs (without metal body) at a lower price.