There has been a lot of buzz about the Samsung Galaxy A9 Pro in the past few weeks. Speculations were made about how it would differ with the regular Samsung Galaxy A9. According to reports this device is still under development, and the SM-A9100 model had come to India for testing but the specs weren't revealed.
Finally, we have something on the Samsung Galaxy A9 Pro and all thanks to the GFXBench listing. A lot is known about the device now and the shroud of mystery has been uncovered.
To start things, it comes as a bit of shock that the device will have a display size of 5.5 inches (1080p) considering the fact that plain Galaxy A9 (2016) has a 6-inch display. Even Galaxy A7 has a 5.5-inch display screen and thus it seems quite implausible.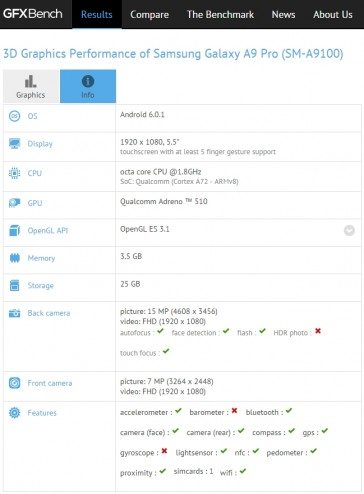 Among other features, the device will reportedly run on an octa-core Qualcomm Snapdragon 652 chipset with Cortex-A72 cores clocked at 1.8GHz. The RAM has also seen a boost in the Samsung Galaxy A9 Pro. It will have 4GB of RAM against the 3GB of RAM in regular Samsung Galaxy A9.
At the camera section, we get a 16 MP rear shooter and an 8 MP front shooter though GFXBench has listed the rear camera as 15 MP and front camera at 7 MP. This is because the rear shooter has a resolution of 4,608 x 3,456-pixel resolution which makes for 15.92MP, but GFXBench only counts complete million pixels as a megapixel. Similarly, the 3,264 x 2,448-pixel front camera (7.99MP) has been reported as 7MP. Reports indicate that Samsung has used Sony IMX298 sensor for this device. This sensor is also used in Huawei Mate 8.
This is all we have about this device until this date but we won't have to wait much longer as Samsung may announce this device anytime soon.