Samsung is all set for a new phone in the form of Samsung Galaxy A8 whose images have surfaced in a brouchure in South Korea. According to the report the brochure has detailed specs of this new smartphone from Samsung. On June 30, a video went viral on Internet showing the upcoming device.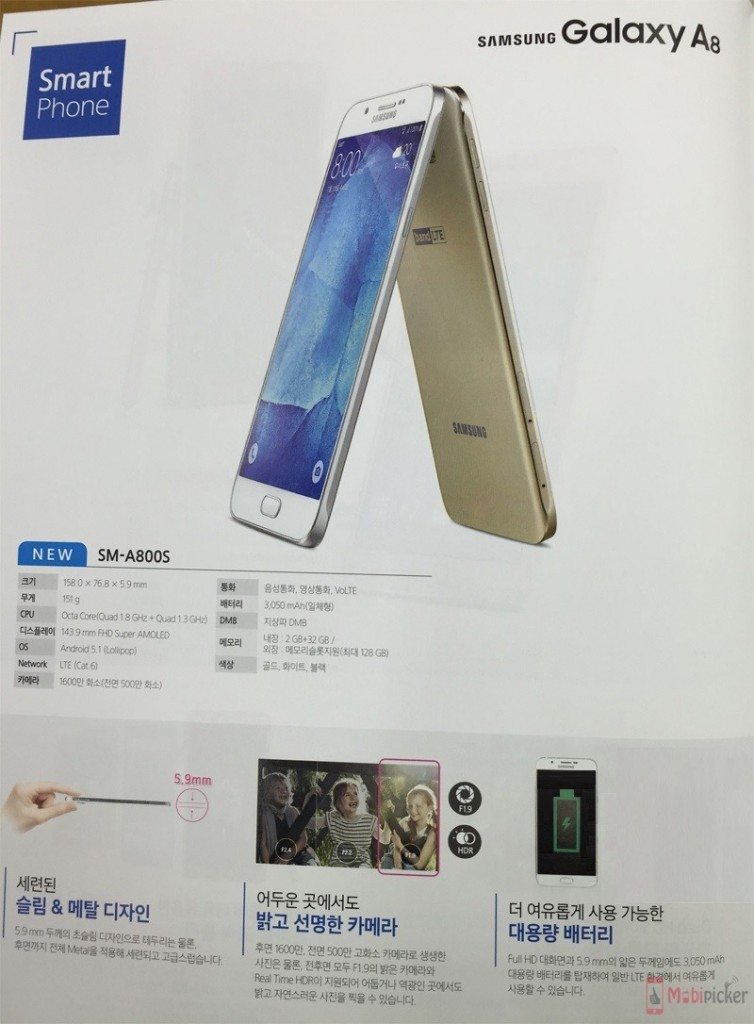 Samsung Galaxy A8 will support a 16MP camera with a f/1.9 aperture similar to what we saw in Galaxy S6. With 5.67 inch Super AMOLED screen with 1080p resolution it has pixel density of 389ppi and thickness of 5.9mm making it a slimmest phone from Samsung.
Running on Android 5.1 Lollipop and powered by an octa-core processor it houses 2GB of RAM and 32GB native storage expandable upto 128GB through a microSD card slot. The actual chipset which will be housed inside the Galaxy A8 is not know yet.
It will sport a 3,050mAh battery alongwith the support to LTE Cat. 6 with VoLTE, DMB (used in Korea). The brochure image in report neither gives the glimpse of price nor the release date. On June 17, it has also been imported to India for testing so we can also expect an Indian release sooner than expected when the brochures are out in South Korea.
Till then we have to wait for more information and keep hooked on to MobiPicker.