Last month, Samsung introduced the stylish, powerful and practical Galaxy A (2017) series. The 2017 Galaxy A series includes the Galaxy A7 with a 5.7-inch display, Galaxy A5 with a 5.2-inch display and Galaxy A3 with a 4.7-inch display. Although not flagships, the Galaxy A (2017) series offer premium frame and 3D glass back. Featuring a sleek camera and home key, the devices are seamless and comfortable to use. The highlight of the Galaxy A (2017) series is the enhanced front and rear 16-MP cameras, which are now more stable with accurate auto-focus, resulting in vibrant and clear photos and selfies even in low-light conditions.
Battery test shows Samsung Galaxy A5 (2017) battery life better than Galaxy S7
The Galaxy A5 (2017) is powered by a powerful 14nm Exynos 1.9GHz Octa-core processor and features a 5.2-inch full HD Super AMOLED display. Sporting 3GB RAM and 32GB internal storage (expandable to 256 GB), the Galaxy A5 (2017) is powered by a 3,000mAh battery. The battery offers up to 13 hours of 3G browsing, 16 hours on LTE and up to 18 hours on Wi-Fi, translating to a two-day battery life! Recent battery tests conducted for Galaxy A5 (2017) show impressive results.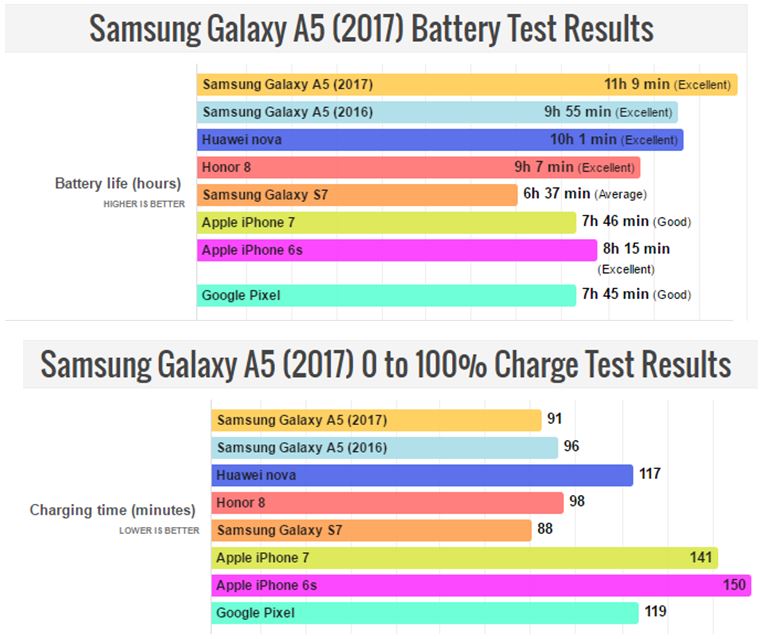 According to reports, when to comes to battery life, Galaxy A5 (2017) fared better than Galaxy A5 (2016), Honor 8, Huawei Nova, iPhone 7, iPhone 6, Google Pixel and Galaxy S7. The battery test was conducted by setting the brightness level to 200-nit for all smartphones. The Galaxy S7 battery lasted for about 6 and a half hours while Galaxy A5 (2017) lasted a whopping 11 hours on a single charge. That's nearly double the performance of Galaxy S7! Galaxy A5 (2016) lasted for about 10 hours while iPhone 7 lasted for 7 hours 46 minutes. Google Pixel also lasted for 7 hours and 45 minutes, the same as iPhone 7.
Galaxy A5 (2017) shows impressive recharge time
The report also talks about how each of the phones performs when it comes to recharging the batteries using a stock wall charger, starting from 0% to full charge. The Galaxy A5 (2017) reached 100% in just 1 hour 30 minutes. Galaxy S7 also reached 100% in 90 minutes while Google Pixel took 119 minutes and iPhone 7 took a depressing 141 minutes to recharge from 0% to 100%. It looks like Samsung's Fast Adaptive Charger, which can push up to 15 watts to the smartphone, aids in boosting charging time.
Check Also: How to hard reset Galaxy S7
In addition to the powerful processors and a battery that offers great performance, Galaxy A5 (2017) comes with 16MP front and rear cameras. The phone runs on Android Marshmallow.