Samsung finally revealed its next generation top-notch chipset. The Exynos 8 Octa 8890, which will probably go by Exynos 8890, was revealed in Seoul and it has a lot to flaunt. Created on a 14nm FinFET process, like Exynos 7420, it marks Samsung's emergence into the custom-built core. The big.LITTLE arrangement in the chipset comes with a quad-core array of those in-house Mongoose 64-bit ARMv8 cores as the performance cluster, while the basic tasks will be taken care of by another four Cortex-A53 cores.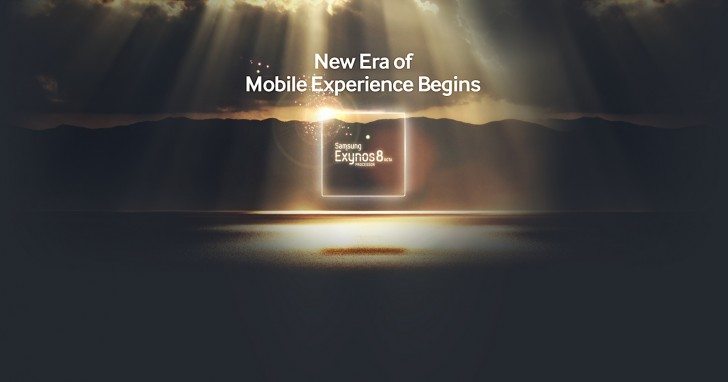 Another thing Samsung brings to the table, is their first integrated modem, supporting Cat. 12/13 LTE with carrier aggregation for download speeds up to 600Mbps. The chipset promises a 30% increase in performance, it benefits from what's dubbed Samsung Coherent Interconnect (SCI) technology, to help the two separate clusters interact more efficiently. It won't affect battery life, on the contrary, it's supposed to be 10% more power efficient (this doesn't mean a 10% increase in battery life as a whole).
Similar to Huawei's recently unveiled Kirin 950 chipset, 8890 has a Mali-T880 GPU, but as it happens with all of ARM's graphics processors, the real secret is behind the number of cores (the x in MPx, which follows the GPU model number). Samsung employs the Mali-T880MP12, with an impressive total of twelve cores, compared to Huawei's MP4.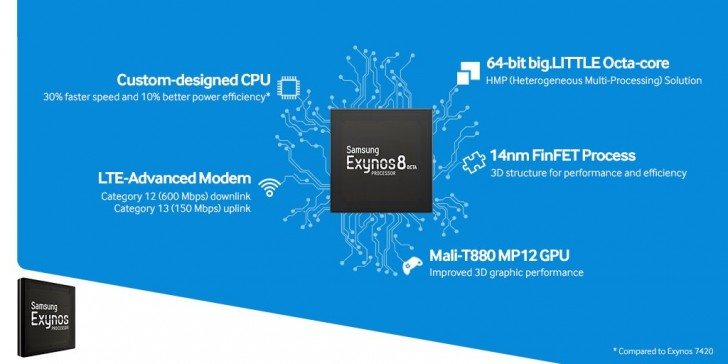 But apart from that, Exynos 8890 supports display resolutions up to 4K UHD (4,096 x 2,160px) or WQUXGA (3,840×2,400px), and this is what we might see in the future with other flagships. But we never know, because Exynos 7420 already supports such displays, even though we haven't seen a device with one of those yet.
These are all preliminary outlines that Samsung has offered us, we still don't know, for example, the clock frequencies which we hope they will reveal soon enough. But on another hand, the biggest missing puzzle piece is the actual device running this chip, and we're thinking it might be the Galaxy S7, around the beginning of the upcoming year.