Most of the high-end smartwatches that are available in the market today – the Samsung Gear S3, Samsung Gear S, LG Watch Urbane 2nd Edition LTE – come with LTE chips in-built. The LTE chips in these smartwatches allow them to function independently i.e. without depending much on smartphones. There's also a category of smartwatches that become useless without a smartphone simply because most smartwatches are tethered devices and taking away the smartphone connectivity turns them into mere fitness trackers.
Although Samsung Gear S3, Samsung Gear S and LG Watch Urbane come with LTE chips to make them more independent, the drawback of this is the size – these smartwatches are quite bulky. When you have LTE support in-built, you should also expect the battery life to take a hit. LTE chips are power hungry and can end up consuming most of the juice. What's the point in having a smartwatch which requires you to charge every other day?
To alleviate the power consumption problems being faced by smartwatches, Samsung, the world leader in advanced semiconductor technology, has announced the commencement of mass production of the Exynos 7 Dual 7270 processor – the first mobile application processor (AP) in the industry designed specifically for wearable devices with 14-nanometer FinFET process technology. Samsung claims that this processor is the first in its class to feature full connectivity and LTE modem integration.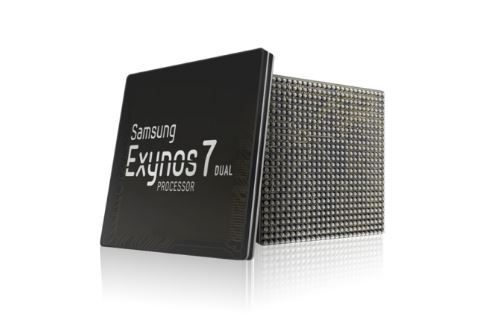 Speaking about the new processor, Ben K Hur, VP of System LSI Marketing at Samsung Electronics said –
The Exynos 7270 presents a new paradigm for system-on-chips (SoC) dedicated to wearables. Designed on our state-of-the-art process technology, this AP offers great power savings, 4G LTE modem and full connectivity solution integration, as well as innovative packaging technology optimized for wearable devices. It is a ground-breaking solution that will greatly accelerate wider adoption of wearable devices by overcoming limitations in current solutions such as energy usage and design flexibility.
The new processor is powered by two Cortex-A53 cores and includes support for LTE, Wi-Fi, GPS, Bluetooth and FM radio. It also integrates Cat.4 LTE 2CA modem. The new AP (application processor) allows wearables to connect to a cellular service as a stand-alone device. The new Exynos 7 Dual 7270 is especially designed for wearables and is the first smartwatch processor to be fabricated using the 14nm technology. As Samsung moves from 28nm to 14nm for wearable tech, you should begin to see considerable savings in power and area.
The new processor is smaller and much more power-efficient than its predecessor. Exynos 7 Dual 7270 packs all connectivity tech – WiFi, GPS, FM radio, Bluetooth, and LTE – in 100mm-square chip and is 20% more power-efficient than the previous generation. 20% improvement is very significant when it comes to wearable tech – power consumption is often the single most important factor that largely decides the success of the wearable product. No one would want to buy a wearable device that requires more frequent charging cycles than their smartphone!
On the positive side, the wearable tech industry is pushing chip integration capabilities to its limits. Wearables like Smartwatches require that manufacturers pack in large components in an incredibly small area to allow for miniaturization and decreased power consumption. And as you start integrating many functions into the chip – like support for LTE and stuff – you will begin to need a bigger battery. Bigger battery implies less room for other components. And this is why the new compact and power-efficient processor from Samsung – the Exynos 7 Dual 7270 – is poised to change things for the better.